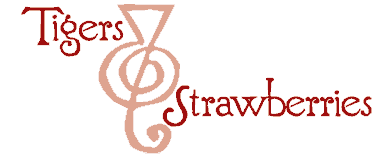 Cook Local, Eat Global
Asparagus is one of those seasonal vegetables that we make gluttons of ourselves with when it is in season, until the point that we are nearly tired of it when it is gone.
I say nearly tired, because I don't think that I could get truly weary of asparagus. It is just so fresh and green and wonderful. After a long winter of eating darker greens, it is nice to eat something sweet, tender and new.
And it helps that each year, I come up with new ways to cook the little verdant spears. I guess if I just steamed it and dressed it with lemon and butter every day, it -would- get tiresome. But no, I like to roast it, grill it, put it in pasta sauces and stir fries.
Last week, I discovered that it is really good in Panang Beef Curry instead of string beans, and I came up with an utterly simple preparation using the Bengali spice mixture, panch phoron.
Made of equal parts of cumin, fenugreek, nigella, mustard and fennel seeds, panch phoron is a magical mixture. These seeds, when toasted in oil or butter, and tossed with a lightly cooked vegetable bring out the natural delicious nature of that vegetable, while adding a myriad of sweet, musky, oniony and hot flavors of their own.
You don't even need a formal recipe to make this: it contains five ingredients.
Butter, panch phoron, asparagus, lemon juice, and a sprinkle of salt. That is it.
For one half pound of asparagus, I used two tablespoons of butter, a teaspoon and a half of panch phoron, the juice of one medium lemon and a pinch or two of salt.
All you have to do is prepare your asparagus for cooking by breaking off the tough ends, and cutting it into bite sized pieces or leaving the spears whole, as you prefer.
Then, you melt the butter in a heavy bottomed pan and toast the panch phoron in it until it is brown and fragrant. Then, toss in the asparagus and cook, tossing and stirring until the skin of it brightens slightly.
Then add half the lemon juice, and steam the asparagus in it until it is done, then add the rest of the lemon juice and salt and stir.
Voila! An amazingly flavorful side dish that is brainlessly simple to do, yet which tastes sophisticated and complex.
9 Comments
RSS feed for comments on this post.
Sorry, the comment form is closed at this time.
Powered by WordPress. Graphics by Zak Kramer.
Design update by Daniel Trout.
Entries and comments feeds.