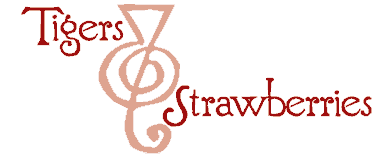 Cook Local, Eat Global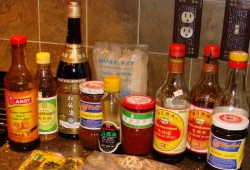 What exactly is a condiment?
In the context of this series of posts on creating your own simple Chinese stir fried dishes, a condiment is a bottled or jarred liquid or paste that is used in fairly small amounts to enhance the natural flavors of the main ingredients of the dish without overpowering them.
If your main ingredients are the stars of the show, and the aromatics are the character actors who add pizazz and oomph to the production, condiments are the hard working supporting cast who help the stars shine without making themselves the center of attention. The aromatics, like character actors, often need to be reigned in to keep them from completely upstaging the stars, but condiments are not so pushy. Their main purpose is to add flavor to food without drawing too much attention to themselves in the process.
I wrote a post about the basic staples of the Chinese pantry a while back, and it is a great introduction to the most commonly used condiments in the Chinese kitchen. I also wrote separate posts about soy sauces, soybean pastes and ground bean sauce, which will be helpful for those wanting to get more specific information on these particular condiments.
What I am more interested in talking about in this post is how to combine three different condiments into a cohesive, flavorful sauce for a simple stir fried dish which consists of a protein ingredient, a green vegetable and another vegetable.
In addition to the sauces listed in the basic Chinese pantry post (light soy sauce, dark soy sauce, rice wine or dry sherry, rice vinegar, oyster sauce, hoisin sauce, ground bean sauce, toasted sesame oil, and chile garlic sauce) there are two more ingredients that I will consider as condiments in the context of this series: sugar (white or raw) or honey, and citrus juice, such as lemon or orange.
By combining three ingredients from this list in careful proportions, it is possible to make a nearly endless array of flavored sauces for simple stir fries. Classic combinations abound, and it is useful to know about them, and experiment with them, but do not feel constrained by them.
Probably the most versatile trio of condiments for stir frying is the combination of soy sauce (light or dark) with rice wine or sherry and sesame oil. This mixture, with rice wine making up the bulk of the volume and providing sweetness, soy sauce bringing in the salt component and adding savory umami goodness, and sesame oil adding a nutty smokiness, tastes good with anything. Using light soy sauce in the mixture will give chicken, fish, tofu or pork a delicate flavor that enhances the natural tastes inherent to the main ingredients. Made with dark soy sauce, beef, bison, pressed tofu and shiitake mushrooms will sing.
The ratio I tend to use in mixing the wine with the soy sauce (which I will use both as a marinade and a cooking sauce) is 3 or 4:1, with the wine being the greater value. Toasted sesame oil, because it is strongly flavored and has a low smoking point, is always used in very small amounts at the end.
Another combination which is potent and flavorful is the mixture of dark soy sauce, rice vinegar and hoisin sauce, with the ratio being somewhere along the lines of 1:1:1/2-1. (The hoisin sauce amount depends on your personal taste. I go easy with it, because I think it can overpower a dish, but some people love it and would use it more along the lines of 1:1:1.) These three condiments together make a musky sweet and sour sauce that is a far cry from the sugary, florescent pink concoctions familiar from the menus of typical Chinese-American take-out joints.
If I were making a marinade for a dish using this classic trio of flavors, I would not use the vinegar in the marinade, but would either use soy sauce alone or use soy sauce and hoisin sauce. The reason is that vinegar boils at a lower temperature than water; if you add it early in the stir frying process, it will cook away and you will not taste it. It should be added close to the last minute for the best flavor effect.
A simple combination for stir fried beef and greens is the mixture of soy sauce, sugar or honey and oyster sauce. The ratio for this mixture is 1:1/4:1-2. The amount of oyster sauce used is variable depending on how much you like the flavor. I tend to use about twice as much oyster sauce as soy sauce when I cook with it, but then, I love the savory oceanic flavor it gives, particularly in beef with gai lan or kale. It is quite simply wonderful, particularly if you get a premium oyster sauce. All of these ingredients are safely used in marinades. The addition of sugar to any marinade will help the meat or tofu brown when it hits the hot wok.
A mixture that is delicious with both tofu and chicken is ground bean sauce, rice wine and sugar. The ratio is 1:2:1/8–the sugar is used primarily to balance the salt in the ground bean sauce, not to give a flavor of its own. All three ingredients can be used in a marinade.
Now, when it comes to making a marinade or making a separate sauce to be added at the end, I tend to be the sort of person who either uses all of the sauce ingredients in the marinade, or I split them up and use part in the marinade, and part to deglaze the wok during cooking. I don't tend to make a sauce at the end. If you review my Stir Fry Technique: Ten Steps to Better Wok Cookery post, you will see my reasoning for making sauces as I go instead of at the end. In short, it is because you end up with a tastier sauce and a more integrated, flavorful dish than you would if you mixed up a sauce and added it at the end of stir frying.
So, how much marinade do I suggest you mix up, and how much liquid (usually wine) do I suggest you keep back for deglazing? Well, for most purposes you don't need much more than about three tablespoons of marinade for about a pound or a pound and a half of protein. Really, you don't need much. Once it is mixed with cornstarch, it will stick to the protein and sort of sink into it, thus making any extra superfluous. Then, for delgazing, you only need a tablespoon or so. Trust me–you won't need much.
Please undestaned that all of these ratios and measures are approximate, and are based on my tastes, not yours. Experiment, and don't be afraid to try new combinations. That is what this series is about–giving general guidelines in an easily remembered format to help folks strike out on their own and make Chinese foods that not only taste good, but reflect the tastes of the cook and his or her family and guests.
Have fun, and if you are ever in doubt about how a combination of ingredients will taste, mix bits of them together in a cup, dip your finger in and taste. Adjust as needed, and go from there.
The possible combinations are nearly endless. Play around, and make up your own flavor mixtures, and never be afraid of experimentation. Remember that while I have gained much of my knowledge directly from chefs and experienced Chinese home cooks, as well as from extensive study from books, much of my expertise has come from experimentation, observation and the occasional accident.
Cook fearlessly, and when you strike upon something you particularly like, record it so you can remember it for next time.
14 Comments
RSS feed for comments on this post.
Sorry, the comment form is closed at this time.
Powered by WordPress. Graphics by Zak Kramer.
Design update by Daniel Trout.
Entries and comments feeds.