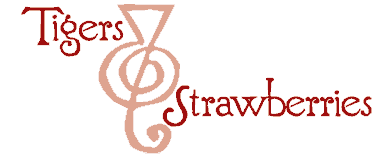 Cook Local, Eat Global
I didn't really know what to call this post, really, because the dinner came out of improvisation on the theme of a many a childhood dinner in West Virginia: pan-fried pork chops served with applesauce on the side, with mashed potatoes and some sort of green vegetable (usually cooked from a vibrant verdant beauty into a dull shadow of olive drabness).
It all came about because one of the jars of my Spiced Blueberry Applesauce failed to seal, so we had to use it right away. I figured I could revisit a classic dinner of my childhood, but just kick it up a notch. Or two. Or three.
I think that most pan-fried pork chops can be rather dry and dull, so I decided to smother mine. Onions are classic, but then, so are apples. Undaunted by the fact that I was serving some blueberry applesauce with this dinner, I decided to add some sliced fresh Jonathan apples to the pan with the onions and pork. Juniper berries are a traditional addition to this mixture, so after crushing a few of them lightly with the mortar and pestle, they went in, too. The seasoning for the chops themselves was an odd twist, but it worked admirably–and it was inspired by the vaguely Indian sort of flavor the blueberry applesauce has thanks to the subtle spices I added to it.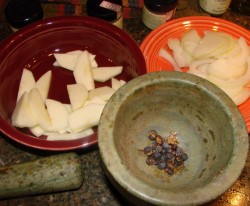 I rubbed with garam masala before browning them in the pan with olive oil, and before the onions and apples were added. The heady, spicy-sweet fragrance of the garam masala lightened up the rich scent of the pork, and blended perfectly with the apples and onions.
To deglaze the pan and create a luscious pan sauce, because I had no apple cider or brandy, I used Marsala wine.
The results were fantastic–amazingly flavorful–sweet, tangy and fragrantly spicy all at once.
My typical garlic mashed potatoes seemed too pain to go with these pork chops, so instead, I decided to implement an idea Morganna's boyfriend James had the last time he came for dinner. I decided to make my usual mashed potatoes: potatoes with lots of garlic cloves boiled with them, then drained and mashed. Instead of the usual butter and sour cream, I added some fresh chevre–tangy goat cheese–and chipotle butter. The chipotle compound butter I had made last month to cut into slices and melt over tenderloin steaks. Really good butter, softened and creamed with dried, ground chipotle chilies, minced fresh chives and a single raw, fresh garlic clove, minced very finely, then rolled up into a cylinder and wrapped and frozen. Since I had plenty left over from the steaks, I pulled it out to thaw, and added it to the potatoes.
Smoky, garlicky, potatoey goodness with the sharp tang of goat cheese and the rich creaminess of butter was the result.
For the green vegetable, I simply heated up canola oil, in another cast iron skillet, toasted up some panch phoron, and after the mustard seeds popped, I tossed in some broccoli rabe, and then when it turned deeply green and browned on the edges, I added salt and lemon juice.
It was a fantastic dinner, one that I have been told must be made again, sometime in the near future. And since I have plenty of that spiced blueberry applesauce to eat, it seems that it is only inevitable that we should eat this particular meal again.
Apple and Onion Smothered Pork Chops With Garam Masala and Chipotle Goat Cheese Mashed Potatoes
Ingredients For the Pork Chops:
3 bone-in, thick cut pork loin chops
1 1/2 teaspoons garam masala
2 tablespoons olive oil
1 cup thinly sliced yellow onion
1 cup peeled and thinly sliced fresh firm, tart apple–I used Jonathan, but Cortland or Granny Smith would work well, too
1 teaspoon crushed dried juniper berries
1/2 teaspoon salt
1/2 cup Marsala wine, apple cider, apple brandy or dry sherry
freshly ground black pepper and salt to taste
Method:
Rub garam masala evenly on both sides of each pork chop and allow to sit about fifteen minutes at room temperature.
Heat olive oil in a heavy bottomed cast iron skillet over medium heat. When it is quite hot, add the pork chops. Allow them to sit undisturbed until browned on the bottom, then turn over. When brown on the second side (you will know this because the chops will no longer stick to the pan–they will move freely), add onions and apples to the pan, along with crushed juniper berries. Sprinkle apples and onions with salt.
Cook, stirring now and then, until the onions and apples are golden brown. Deglaze the pan with wine, stirring. Allow the alcohol to boil off, then turn heat down to low, and cover the pan.
Cook until sauce reduces to a reddish brown glaze, and the apples and onions cling to the chops.
Serve with some spiced apple sauce on the side.
Ingredients For Chipotle Mashed Potatoes:
2 pounds red potatoes, peeled and cut into medium dice
1 head garlic, peeled and cloves separated
1 teaspoon salt
4 tablespoons butter
1/2-1 teaspoon ground dried chipotle chile (to your taste and heat tolerance)
2 teaspoons finely minced fresh chives
5-6 tablespoons fresh, tangy chevre
milk as needed
salt and freshly ground pepper to taste
Method:
Put potatoes, garlic cloves and salt into a large pot and cover with cold water. Bring to a boil, then turn down heat and simmer uncovered until potatoes are completely softened, but not falling apart.
Drain potatoes and garlic, then put cooking pot back on the heat. Allow heat from burner to evaporate liquid. Add potatoes and garlic, and stir, allowing the burner to evaporate some excess moisture.
Remove from burner, turn off heat, and add butter, chipotle, chives and chevre. Mash with a potato masher or hand-held mixer, until a soft puree is formed. After mashing, add whatever milk is necessary to whip the potatoes into a fine, light mash. Add salt and pepper to taste, and serve immediately.
Note: You may use more or less butter and chevre if you like. You can use skim milk for the milk, or cream, if that is what floats your boat. The dairy added to the potatoes is more of a "to your taste" sort of thing–you be the judge of just how fattening or not you want to make your potatoes. I make mine pretty fattening, in large part, because I don't eat fattening food all the time. Just now and then.
Everything in moderation.
Now that I think on it, these potatoes would be banging good on top of shepherd's pie. Maybe I could spice the ground meat filling with cumin, coriander, cilantro, tomatoes and corn–sort of a taco filling kind of thing, and then use these chipotle mashed potatoes and shredded cheddar cheese as a topping, and call it Tex-Mex Cowboy's Pie. Might have to try that once the weather finally deigns to cool off.
10 Comments
RSS feed for comments on this post.
Sorry, the comment form is closed at this time.
Powered by WordPress. Graphics by Zak Kramer.
Design update by Daniel Trout.
Entries and comments feeds.