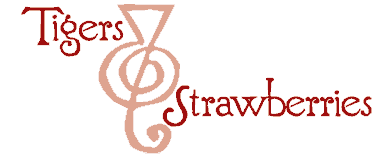 Cook Local, Eat Global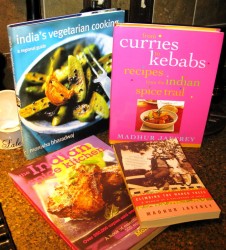 Here is the first post listing the prize that Restaurant Salaam and Tigers & Strawberries are sponsoring for the fourth annual Menu For Hope event hosted by Pim at Chez Pim. The prize code number you will use when you go to first giving if you are interested in buying raffle tickets for this prize is UC06
I don't have all of the pieces to the prize gathered in one place, so I have to post several different photographs to show all of the goodies that will be coming to the lucky holder of the winning raffle ticket. When all of the prize bits are gathered together, I will post again, with a single photograph of everything arranged artfully and aesthetically. Until then, let's make do with the three photographs and intense verbal descriptions herein. (For better photos of the complete prize, along with descriptions of all the spices, dals and everything that will be include, go here.)
First, as you can see in the photograph above, we are offering four books, all relating to food in India. All of these books have been reviewed or at least mentioned on this blog, and all of them are excellent resources for someone who is learning to cook Indian foods.These books are all brand new, unopened and ready for you to dive into them and add your own drips and dribbles of kitchen magic as you learn to cook from them.
First up, going clockwise from the upper left corner, is Monisha Bharadwaj's Indian Vegetarian Cooking: A Regional Guide. This is an excellent cookbook, filled not only with great recipes, but with cultural and culinary information, as well as gorgeous photographs of the food, people, land and spices of India.
Next we have Madhur Jaffrey's From Curries to Kebabs: Recipes from the Spice Trail of India. This is one of the most fascinating of Jaffrey's many excellent cookbooks, because she recounts the history of curry and how it has traveled around the world and transformed itself in each country where it has taken root. This is not only a cookbook to cook from, but to also read like a novel.
Speaking of reading something like a novel–I am also offering Jaffrey's wonderful memoir, Climbing the Mango Trees, where she tells of her early life in India, where she witnessed such historical events as the partition of India and Pakistan and even more sadly, the assassination of Gandhi. This memoir is quite fascinating and reads like a novel, filled as it is with unforgettable characters and vibrant settings.
Finally comes Monisha Bharadwaj's The Indian Spice Kitchen. I haven't reviewed this book on my blog, in large part, because it was out of print for a while, but has finally come back into print. This makes me very, very happy, in large part because it is one of the best books to introduce cooks new to Indian food to the staple spices, legumes, flours and other ingredients of the Indian kitchen. It is encyclopedic in scope, with lots of recipes and photographs of each food item as well as its name in several Indian languages, in addition to its commonly known English name. I used to suggest this book to many of my culinary students interested in Indian food, especially those who were taking my "Introduction to Indian Spices" class where we smelled and tasted Indian spices alone and in combination, and then practiced several techniques of flavor extraction with them. This is quite simply a great book.
These books are the core of the prize, but they are not all that will come in the box from me to the lucky winner.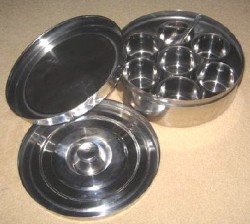 I am also including a masala dhaba–as pictured above. It is a traditional Indian spice box which contains seven round tins, a scooping spoon, and inner, airtight sealing lid that keep the spices from spilling from the inner containers and an outer lid. It is made from stainless steel and is like the boxes used in households all over India to keep the most commonly used spices close to hand near the stove.
It won't come to you empty as pictured. Nope–it will come filled with fresh spices, selected by myself, to help you get started cooking Indian foods right away. In addition, I am going to throw in a selection of Indian dals and legumes–lentils, split peas and beans–so you can dive right into making filling home-style Indian vegetarian goodies as soon as your package arrives.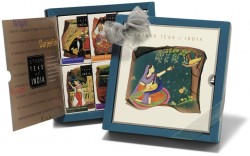 Finally, Hilarie at Salaam thought it would be nice if the winner had something to drink while he or she read these wonderful books and cooked, then ate their spicy Indian foods, so she is donating a lovely Stash Tea gift box of select Indian teas. This lovely box, pictured above, comes with a nice variety of teas grown in India that will make a perfect match with whatever you feel like cooking with your spices and cookbooks.
So, all together, this Gift of Indian Spices prize will consist of four books, a stainless steel spice box filled with fresh spices, a selection of Indian legumes and premium Indian tea in a decorative gift box.
I will only be able to ship to the US, due to the issue of weight. Books and beans are pretty heavy so I will have to restrict the prize to ticket holders within the United States.
If you have any questions, please feel free to ask in the comments section.
6 Comments
RSS feed for comments on this post.
Sorry, the comment form is closed at this time.
Powered by WordPress. Graphics by Zak Kramer.
Design update by Daniel Trout.
Entries and comments feeds.