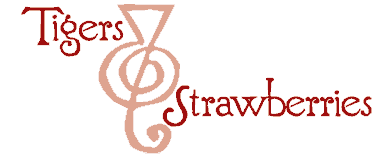 Cook Local, Eat Global
Now, you can finally see all the goodies which will come to the lucky winner of prize number UC06: "A Gift of Indian Spices" from the Menu For Hope raffle. Everything you see, with the exception of the jars holding the three kinds of dal, will be included in the gift.
The dals which will come with the gift are two pounds each masoor dal–which are those pretty orange split lentils you see in the big jar, toor dal, which are in the medium sized jar, and moong dal. You can cook these separately or in any combination and they make a great protein-rich vegetarian dish.
Now, let's talk about the spices, and the masala dhaba–the traditional Indian spice tin you see in the middle of all the goodies.
The masala dhaba has seven little cups which go into the big outer tin. The large outer tin also has an inner lid which fits tightly, keeping the spices sealed in an airtight environment, and a spoon, which is used to scoop the spices out for use. Then, there is an outer lid which seals everything up perfectly, keeping out moisture, light and all the other things which are bad for making your spices stale.
It is of solid stainless steel construction, and is nice and shiny. It is meant to be left out on your counter, near your stove so you can use it every day. It will last a lifetime, I promise you.
It will come with the spices pictured–or at least, if not these exact spices, ones like them.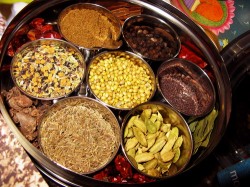 Here is a closeup of the masala dhaba along with all of the spices that will come with it. (I will pack the spices in little plastic bags for shipping so they don't get spilled and messed up. The spices included are, from the top going clockwise: very pungent black malabar black peppercorns, brown mustard seeds, which you can use ground or whole–I like them best whole, whole green cardamom pods–you can use them whole, or ground, cumin seeds–again, I love them whole, a hand-mixed batch of Bengali panch phoron–my very favorite Indian whole spice mixture containing cumin, nigella, fennel, mustard and fenugreek seeds, all whole–this mixture does magical things to any vegetable dish, and in the center, coriander seeds.
Along the periphery, filling in the gaps between the inner tins, you see that I have tucked more spices. This is not how you are supposed to store spices in your masala dhaba, but I really wanted to give the winner a lot of really good spices, so, again, clockwise from the top, you will see cinnamon sticks, dried sanam chilies, bay leaves, whole dried Thai chilies I grew this summer, black cardamom pods–go easy on these, they are strong!, and Pakistani whole dried chilies which are super, super SUPER hot.
Oh, wait–I forgot one spice mixture–see the one ground spice in the tin, next to the panch phoron? That is my own house garam masala–a mixture of spices I toasted, and ground to be sprinkled on a dish near the end of cooking to add that last little fillip of fragrance and heat. The winner has a choice with this one–I can send it to them with the spices toasted but whole, ready to grind, or ground up and ready to go. In either case, it will be done right before I ship the package off, for optimum freshness.
And, finally, the Stash Tea gift box includes six types of teas, all sealed for freshness, all from India, packed in the absolutely gorgeous box you see here. I love the art on the box, and would be tempted to frame the lid and hang it on a wall in my kitchen if I were keeping the box.
To read more about the books you see–if you haven't read my first post about this prize, check it out here.
If you have any questions, feel free to post them, and I will answer as soon as I can.
You can see the little spoon for the masala dhaba in the garam masala.
6 Comments
RSS feed for comments on this post.
Sorry, the comment form is closed at this time.
Powered by WordPress. Graphics by Zak Kramer.
Design update by Daniel Trout.
Entries and comments feeds.