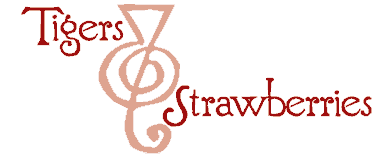 Cook Local, Eat Global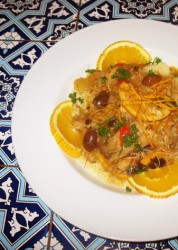 I am not calling this a tagine, per se, because it isn't really. But it is based on the idea of a tagine, which is a Moroccan long-simmered stew that is served over couscous. The recipe which gave me the idea for this one was based on a real, traditional Moroccan tagine which contains lemons, green olives and artichoke hearts. (Actually a reader on the internet gave me the idea of oranges and black olives, but the fennel and bell peppers were my own additions.)
This recipe is not really Moroccan (which is why I call it Moroccan-style), nor is it traditional, but it is quite good. I did it as a dinner special tonight, and it turned out very well, with many people ordering it and raving about it.
I knew I would have to run home and write the recipe down for it so I wouldn't forget how I made it. (I don't often forget, but sometimes I do, and that is always a very sad thing.)
I will say that this was simple to put together, and the resulting dish looks and smells fantastic, not to mention the flavor, which is complex, layered and intriguing, while still being very good.
You know, there are some flavors which are intriguing, but not in a good way. Flavors that make you go, "That is interesting, but I don't think I want to eat any more of it." This dish is the polar opposite of an intriguing in a bad way dish. With this one, you want to keep tasting it to try and parse out exactly what you are eating, what gives it this flavor and that aroma and this scent and that taste.
One thing I do want to write about before I give you the recipe is the importance of soaking and rinsing the brine-cured olives several times before cooking with them.
I made this dish with pitted kalamata olives in brine. That is because that is what we had at the restaurant.–I know that I perhaps should have used Moroccan oil cured olives, but there is something to be said for utilizing what you have on hand, without purchasing more ingredients.
I have found that if you soak brined olives in a change or two of warm water, then drain and rinse them well, much of the salt is removed, and what you are left with is the fruity nature of the olive itself. In this dish, when the other strong flavors are oranges and fennel–both sweet, the fruitiness of the olive is what you want to highlight. The oranges were a wonderful balance of both sweet and tart, while the fennel was both sweet and vegetal. The olives added a darker hint of richness, balancing the two types of sweetness the other main flavorings offered.
So–I definitely suggest soaking and rinsing the olives–it brings out the essential nature of the fruit much better than leaving the briny taste intact.
I have to admit to being very pleased with how this dish turned out–Hilarie liked it better than the original dish which was my leaping-off point. That made me happy–though, of course, I am wanting to try a version now with blood oranges.
Just, you know, 'cause I could.
And it would be pretty.



Moroccan-Style Chicken with Oranges, Black Olives and Fennel
Ingredients:
1 1/2 cups pitted kalamata olives
3 tablespoons olive oil
2 large red onions, peeled and sliced thinly (about one and a half cups)
1 teaspoon salt
6 cloves garlic, peeled and minced
2 teaspoons fennel seeds
1 small red bell pepper, seeded and cut into thin slices about the size of the onion slices
1 small yellow bell pepper, seeded and cut as the red pepper
2 fennel bulbs, root end trimmed off, and stems cut away, cut in thin slices–about the size of the onions
1/2 teaspoon ground cinnamon
1/4 teaspoon ground cardamom
2 tablespoons Aleppo pepper (optional)
1/4 teaspoon dried ground ginger
3 teaspoons ground coriander
2 tablespoons orange zest, minced
2 teaspoons ground turmeric
2 quarts chicken broth or stock
juice of 2 navel oranges
juice of 2 lemons
1 teaspoon sugar
2 pounds boned, skinned chicken–breasts or thighs, either one, or a mixture of both (that is what I prefer)
2 navel oranges, zested, stem and blossom ends trimmed, then cut into half long wise, then into thin slices
roux blanc made from 3 tablespoons olive oil and 3 tablespoons flour, heated until it bubbles
salt and pepper to taste
More orange slices and orange zest for garnish
minced parsley for garnish
Method:
Soak the olives in warm water for at least 1 half hour, then drain and rinse in warm water. Taste–and if they are still strongly salty, repeat the soaking and rinsing process. Drain well in colander and then on paper towels.
Heat olive oil in a heavy-bottomed Dutch oven. Add onions and sprinkle with salt, and cook, stirring, until they turn lightly golden. Add the garlic, fennel seeds, bell peppers, and fennel bulbs, and cook, stirring, until they soften and begin to turn golden. Add remaining spices and orange zest, and cook until fragrant–about a minute or two.
Add chicken broth or stock, orange and lemon juices and sugar, and bring to a boil.
Add chicken meat and turn down to a simmer, and cook until chicken is done.
Remove meat and shred or cut it into bite-sized pieces. Add sliced oranges. Return to pot, bring liquid to a boil, and thicken with hot roux. When liquid thickens into a sauce, simmer, stirring constantly, for about ten minutes, then remove from heat. Correct seasoning and season to taste with salt and pepper.
Serve over couscous and garnish with minced parsley, orange zest and and orange slices.
8 Comments
RSS feed for comments on this post.
Sorry, the comment form is closed at this time.
Powered by WordPress. Graphics by Zak Kramer.
Design update by Daniel Trout.
Entries and comments feeds.