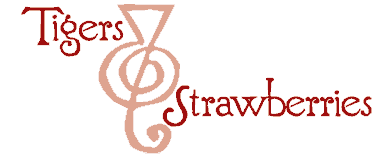 Cook Local, Eat Global
On a cold winter night, when the weather is blustery and damp, there is nothing that warms myself and my family up more than a bowl of za jiang mein–Chinese wheat noodles tossed with a hearty, spicy-sweet meat and tofu sauce and topped with crisp raw or blanched vegetables.
And since last night, our weather changed from springlike back to winter, I promised everyone that I would make a big batch of what some folks call "Chinese Spaghetti," and had my proposal greeted with much applause and acclaim.
There was only one problem.
I wasn't in the mood for meat.
I wanted mushrooms.
So, I thought to myself, "Is there any reason I couldn't make a thick, somewhat chunky sauce like the za jiang meat sauce, but instead of meat, use mushrooms?"
I decided that there was absolutely no reason in the world I couldn't or shouldn't do that, so I did, although I also still made a batch of the meaty version for everyone else. I -had- promised, and besides, not everyone in this house loves mushrooms as much as I do.
Now, I have to admit that while this sauce was inspired by the soybean-paste based za jiang sauce, I detoured considerably from the usual recipe while I was in the process of creation. I wanted something spicier than the usual, so I added both fresh and Hunan salted chilies, and there was some kale and collards in the fridge that looked ever so tasty, so I chopped them finely and added them. And then, after those additions, I found that at the end of cooking, I needed to add a slosh of Chianking black vinegar (you can use balsamic if you don't have the Chianking); the sour note balanced the spicy-hot chilies and slightly bitter greens to perfection.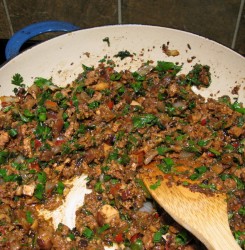 The original sauce often includes tiny cubes of pressed tofu which are probably there to add a textural interest as well as to stretch the meat and make it go farther without lightening up the recipe considerably. (It is supposed to be warming, stick-to-your-ribs fare–after all, it is a dish common around Beijing which is not in the least bit balmy in the wintertime.) I kept these little cubes because I love them, but I also added about three ounces of crumbled, unpressed extra firm tofu that I marinated in dark soy sauce. This served two purposes: it boosted the protein level of the dish, and it helped mimic the texture of the meat sauce, without being as heavy.
I used two types of mushrooms in the sauce as well–if I had more varieties, I would have used them. For the bulk of the sauce, I used regular fresh button mushrooms, which I minced up finely, as if I was making duxelles, and fresh shiitake mushrooms, which I diced into 1/4″ pieces, to add textural variety. I could also have used rehydrated dried shiitake, but I had fresh ones on hand, so that is what went into the pot. These mushrooms were cooked together after I had thoroughly browned an onion with the chilies and some fermented black beans. With the mushrooms went finely minced garlic, ginger and scallion, and as the liquid cooked down and the mushrooms began to brown and stick to the pan, I deglazed with a good splash of Shao Hsing wine, although dry sherry would have worked just as well. After that, in went the two types of tofu to cook for a minute or two before the chopped greens went in.
As soon as the collards and kale turned from dull pine green to emerald, I tossed some soy sauce, a dab of ground bean sauce and hoisin sauce, and a sprinkle of sugar into the pan with a scant 1/4 cup of vegetable broth. A bare teaspoon of cornstarch and water slurry thickened the sauce after it cooked for a minute or so, and at the very end, two big handfuls of cilantro were stirred in along with a few drops of sesame oil and the tablespoon of vinegar.
How did it taste?
It ended up rich, redolent with the dark mystery of mushrooms, and sparkling with chile heat and the bittersweet kiss of winter greens. The vinegar gave it just the last fillip of tang it needed to enter the realm of deliciousness, while the cilantro added a fresh liveliness that is hard to resist.
It was just as good as the usual za jiang mein with meat, although, after I was done with it, it tasted considerably different, being as I used less soybean pastes and sugar and more chilies. It was lovely, though, and satisfied that mushroom longing I had, without being heavy and overly filling.
It was good stuff. I will be making it again–although since I was the only one eating this batch, I can either freeze the leftovers or use them in a Chinese rice noodle stir fry for lunch, or toss them with ramen or rice. We'll see. Any of those options would taste wonderful.
One more thing–if I had thought of it, I would have used mushroom soy sauce for this dish–it has the essence of dried shiitake mushrooms in it. That would have ruled!
There is always the next time, though….
Chinese Wheat Noodles With Mushroom-Tofu Sauce
Ingredients:
3 ounces extra firm tofu, crumbled
1 1/2 teaspoons dark soy sauce
3-4 tablespoons canola or peanut oil
1 cup finely diced onion
1 tablespoon fermented black beans
1 teaspoon thinly sliced fresh Thai chile
1 teaspoon Hunan salted chile (optional)
8 ounces fresh button mushrooms, stems trimmed, minced finely
4-8 ounces fresh shiitake mushrooms, stems removed and caps diced
4 cloves fresh garlic, finely minced
2″ piece fresh ginger, peeled and finely minced
3 scallions, light green and white parts only, finely minced (save the tops–slice them for garnish)
2 tablespoons Shao Hsing wine or dry sherry
1 tablespoon dark soy sauce
3 ounces pressed spiced dry tofu, diced finely
1 1/2 cups finely chopped kale and collards or any green you prefer
1 tablespoon ground bean sauce
1 teaspoon hoisin sauce
1 teaspoon raw sugar
1/4 cup vegetable broth
1 teaspoon cornstarch dissolved in 2 teaspoons cold water
1 cup roughly chopped cilantro and the sliced scallion tops
1 tablespoon Chianking black vinegar or balsamic vinegar
1/4 teaspoon toasted sesame oil
Method:
Toss crumbled extra firm tofu with the soy sauce until it is stained dark brown. Allow to marinate while you prepare other ingredients.
Heat oil in a cast iron pan until it is quite hot. Turn heat down to medium. Saute onion, fermented beans and chile, stirring constantly until the onion is golden brown. Add mushrooms, garlic, ginger and scallions, and keep cooking, stirring constantly until the ground mushrooms give up their liquid and begin to dry out, and some of the stuff sticks to the bottom of the pan.
Add Shao Hsing wine and soy sauce, and scrape up browned bits. Add both types tofu, and cook, stirring, about a minute or two more.
Add greens, and stir. When greens brighten in color and wilt, add ground bean sauce, hoisin sauce, sugar and vegetable broth. Cook for one more minute, add the cornstarch mixture and cook for another thirty seconds.
Stir in cilantro, scallion tops, vinegar and sesame oil.
Toss immediately with freshly boiled, well drained, steaming hot Chinese wheat noodles (I used dried–fresh would be great, too), and add any jullienned raw or blanched vegetable garnish you would like–I used carrots, but you could use sweet red, green or any color you like bell pepper, seeded cucumber, radish, daikon, kohlrabi. It is all good.
9 Comments
RSS feed for comments on this post.
Sorry, the comment form is closed at this time.
Powered by WordPress. Graphics by Zak Kramer.
Design update by Daniel Trout.
Entries and comments feeds.