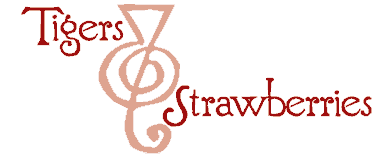 Cook Local, Eat Global
Last week, while I was taking a bath and Kat was assisting by throwing rubber duckies into the tub on top of me, I decided to attempt to distract her by telling her that we were going to start making cookies this week for the holidays.
And she said my favorite word in the English language. (No, not "chocolate.")
She stopped, poised in mid-throw, ducky hovering over her head like a bloated blue hummingbird and said, "Why?"
I nearly wept with joy. It was the first time she had asked one of us "why?" about anything! And it was about cookies!
I grinned and said, "Well, making cookies is a tradition at Christmastime. I've been baking cookies every Christmas for thirty years, and I hope to be doing it for another thirty."
"But why, Mommy?"
Why, indeed.
I perked right up, and happily watched as the wee blue ducky, long forgotten, was dropped on the bathmat where it would lurk, waiting to trip me up as I got out of the tub. Putting on my best "Mommy has a minor in history voice" I answered, "All over the world, at this time of year, when the nights get longer and longer and longer and darker and darker, people celebrate the return of the light, as the days slowly start to lengthen and the nights become shorter again. All over the world, people have holidays that celebrate the light, and on those holidays we give gifts, we feast and we make sweets like cookies, to rejoice in teh return of the sun, and the light of hope and love in our hearts."
It sounded good, and Kat nodded sagely.
I finished and she piped up with, "But what do cookies have to do with light?"
Ah, she thought she got me with that one, but no! I had a ready answer, and it is even historically accurate.
"Well," I said as I started draining the tub, for the ablutions were completed, the last five minutes of them blissfully duck-free, "long ago before there were refrigerators and grocery stores, people had to grow all of their food and store it for the winter. And sometimes, if the winter was really cold, or the harvest had been bad or if the snows lasted longer than usual, people would start running out of food near the end of winter. So, in the beginning of winter, when there was still plenty of food stored up, people would make and eat fattening foods like cookies and roast meats and cheeses so they could fatten themselves up to live through the winter. That way, if they ran short of food, they had a bit of fat on them to keep them strong until springtime. And the feasting just happened to coincide with the return of the sunlight, so the holiday tradition of making cookies was born."
So there we are. That's why we make cookies at Christmas.
Now, as to why I make cookies at Christmas, that is another story. I make them every year, because since I was fourteen years old, that was my holiday job. I did the baking. I made bread, cakes and especially cookies. I wasn't really allowed to cook anything else in my mother's kitchen, but since she didn't much care for baking, and I did it so well, she turned the duty over to me, and I just kept on with it, happily becoming along the way somewhat of a cookie expert.
The first recipes I used were the family ones, handed down from great-grandmothers, a couple of them even coming all the way from Germany. And, of course, I used the Toll House Cookie recipe on the back of the pouch of Nestle's semi-sweet chocolate chips. I insisted on using real butter in all of my baking–my Mom liked to use margarine, but I was having none of that. All of the recipes called for butter, and butter is what I used–who was I to argue with my long-dead great grandmothers? You don't mess with the ancestors, man–they can come back to haunt you. I also insisted on real chocolate chips, and real vanilla extract too. Mom grumbled, but bought the ingredients I specified, and when she tasted the results, she stopped grumbling.
Over the years, I started experimenting, and worked out new recipes, some of which were based on the old family favorites, like my Aphrodite Cakes, which is based on my great-grandmother's German sugar cookies. Others were based on ideas I had, like what would a cookie with Sichuan peppercorns in it taste like? Would lavender be good in shortbread? What about chilies in a brownie? Why can't I put toffee chips and cinnamon bits and espresso powder and just use brown sugar in chocolate chip cookies? If Irish Cream is good with cream cheese in brownies, what happens if you add raspberry preserves and Chambord?
That is the cool thing about cookies. They are easy to play with. You can add ingredients, subtract them, change them, modify them by chilling or melting them, and you can almost always, if you have a bit of knowledge about baking, come up with something that will taste amazing. Cakes–they are much trickier, and I would not play as fast and loose with cake recipes as I do with cookies. Pies–well, I play with fillings all the time, but I stick pretty close to the general ideas when it comes to the crust. I will add ingredients and change proportions a little, but not like I do with cookies. Pie crust is too fragile to mess with very much, and cake–it is just finicky.
But cookies are forgiving. They are easy and they are fast and they are fun. So, I love playing around in the kitchen every year and coming up with new and tasty additions to the holiday sweets repertoire.
This year, I wanted to do something new with a chocolate chip cookie.
But I didn't want to overload it like I did with the Coyote Chip Cookies. Granted, they are lovely, and I like them a great deal, but Zak is not fond of them, and I wanted to make a chocolate chip cookie that both he and I could enjoy together.
What flavors go with chocolate?
Coffee. Been there, done that.
Nuts? Eh–I have to be careful with that, Zak can be weird about nuts. He likes some of them and not others.
Something was niggling at the back of my brain, trying to get my attention and suddenly, I remembered–Zak had just said the other day at the grocery store when we were buying candy canes that he doesn't know a thing about those because he doesn't really like peppermint candy, but chocolate covered cherries–those he used to be able to eat by the box.
And what is his favorite (non-Jeni's) ice cream? Cherry Garcia.
Ah ha! Cherry chocolate chip cookies!
Why had I not thought of it before? What exactly is wrong with me? Dried sour cherries added to the usual Toll House style cookie, with milk chocolate instead of semi-sweet, since Zak prefers the former, and some almonds to help boost the flavor of the cherries and add a bit of crisp texture to the chewy fruit and cookies–perfect!
Yeah, I was right. The tart cherries are chewy and tangy, and you can taste the cherry flavor very well in the golden cookie, and it pairs beautifully with the rich, sweet milk chocolate. Almonds pair perfectly with both chocolate and cherries, and they added some crunch and the whole thing is just soul-satisfying.
He ate three for breakfast this morning. Brittney, who came to take care of Kat while we were in Columbus for my therapy appointment and for Generic Winter Holiday shopping, had one and declared it "Amazing."
There are a few caveats: one, use Mariani brand dried cherries if you can find them. They are plump, chewy and delightfully tart. You don't want to use sweet cherries in this–you want to use sour red cherries. Mariani are the best I have come across for baking–they do not dry out and do not require plumping before baking. So, seek them out. Two–toast your almonds before you put them in the cookie dough–it brings out the flavor in them. And three–you can use half semi-sweet chocolate chips and half milk, but I think milk chocolate is better, because it is a better foil for the tart sour cherries than the lightly bitter semi-sweet would be.
It is my new favorite, and here it is–one of my gifts to you this holiday season. Go bake a batch and celebrate the return of the light with a little bit of dietary fat and sugar!
Cherry Chocolate Chip Cookies
Ingredients:
2 1/4 cups all purpose flour (or 1 1/4 cups all purpose flour and 1 cup white whole wheat flour)
1 teaspoon salt
1 teaspoon baking soda
1 cup cold butter
3/4 cup sugar
3/4 cup light brown sugar, packed
1 1/2 teaspoons vanilla extract
1/2 teaspoon almond extract (optional)
2 large eggs
12 ounce package milk chocolate chips
6 ounce packaged Mariani dried sour cherries
1 cup sliced almonds, toasted
Method:
Preheat oven to 375 degrees F.
Stir flour, salt and baking soda together in a bowl and set aside.
With a mixure, cream together the cold butter and sugars, until well blended and fluffy. add the extracts and eggs, and beat well until mixture is smooth. Add flour mixture in thirds, and mix until well blended. add chocolate chips, cherries and almonds, and stir until combined.
Drop by rounded tablespoonsful onto not greased baking sheets (I line mine with silicone liners) and bake for 9-11 minutes, or until golden brown, but still seeming to be lightly underdone in the center. Remove from oven and allow to cool two minutes on the baking sheet, then transfer to a rack. Allow to cool until the cookie is still warm to the touch, but is firm and not hot. Place into a container with a tight-fitting lid and seal them up and allow them to cool the rest of the way. (This guarantees a chewy texture to the cookie.)
Makes about three and a half dozen cookies.
26 Comments
RSS feed for comments on this post.
Sorry, the comment form is closed at this time.
Powered by WordPress. Graphics by Zak Kramer.
Design update by Daniel Trout.
Entries and comments feeds.