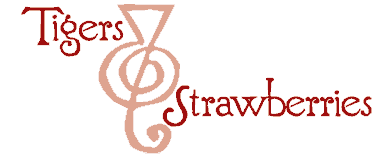 Cook Local, Eat Global
Hello to all of my readers. First–I want to thank all of you not only for sending emails and posting comments of concern here after I dropped off the face of the Internet again. You all have and still do mean a great deal to me–having so many friendly readers and a community of folks […]
I'll be out of town from Thursday to Sunday, traveling to Tennessee for my Uncle Frank's memorial service. New posts will once more appear starting on Monday. Have a good weekend, all.
First of all, I want to thank everyone who has posted here, emailed me, stopped me on the street or called me on the phone to extend best wishes and the hopes that all is well with my family and myself. My readers are among the best people in the world–caring, curious, interested, intelligent, compassionate, […]
Fear not. Morganna's ultrasound, like her CT scan, turned out perfectly normal. Her white cell count is still not elevated, and her pain is gone, as is her general malaise and nausea. She is, in a word, fine. When the ER doctor suggested it was a virus, I was skeptical, but Morganna's regular doctor said […]
I have a nearly finished post, with just the recipe left to write, that I was working on last Monday, but I never got to post it, because I took Morganna to the doctor, who then sent us to the ER. She was having severe abdominal pain, and he thought it might be appendicitis–and it […]
Powered by WordPress. Graphics by Zak Kramer.
Design update by Daniel Trout.
Entries and comments feeds.