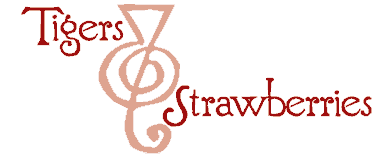 Cook Local, Eat Global
Warning!
This post contains photographs of a graphic nature. If you are too squeamish to want to look at where your food comes from, if you cannot abide meat that looks like it came from an animal, then stop reading, move along and don't look any further, because some of these photographs depict in graphic detail, various body parts of chickens, and the sight is not pretty.
Cue the Ennio Morricone soundtrack.
You know the one I mean.
Because I have an epic tale to tell. One that is almost (but not quite) as epic as one of Sergio Leone's classic films.
The tale of making chicken stock, and it is a tale that is full of the good.
Yes, as you can see, the results are good, beautiful and pure: rich, golden, fat-flecked, full-bodied stock that is nothing more or less than the essence of chicken brought forth from the most humble of origins into glory.
But this tale is not all love and beauty, sweetness and light. There is a villain in this tale, which is right and proper, because all the best stories cry out for an antogonist. So, here, also, I will tell you of the bad.
Observe the low criminal forhead and shifting, beady eyes. This cat is up to no good, and in fact, in his self-serving quest for tidbits of chicken, he nearly caused countless kitchen disasters as Morganna and I labored mightily to bring forth the wonderous and nourishing chicken stock.
Ah, but yes, even though there is a villain, he is not the source of all of the ugliness in our story. Oh, no. For, indeed, chicken stock, though it does turn out to be clear, golden and pure, comes from a source which is not only humble but distinctly unattractive. In fact, for some people, the stuff from whence good chicken stock is made is a source of horror and disgust, and they turn their heads away and deny the truth of the viscerally ugly parts of life.
But not me. I am here to tell you all about the ugly, too.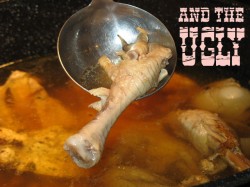 Yes, that photograph does indeed contain what it looks like it contains: a severed chicken foot, after it has been simmered for eleven hours in a pot mixed with many others of its fellows, as well as numerous backs, necks, and an entire poultry charnel house worth of bones, which have been collecting in my freezer over the past year.
But I get ahead of myself.
You see, Saturday, I decided I needed to clean out my freezers, and use up what I could so that I could then turn around and fill said freezers with food I had prepared with an eye toward having plenty of Barbara-made (not government issue) MREs for my personal troops while I recovered from giving birth to Kat.
So, I did just that. Okay, in truth, I cleaned them out Friday afternoon and stuck the resulting concatenation of chicken bones, backs, necks, feet and whole chicken carcasses in my upstairs refrigerator to thaw overnight so that I could do the magical ritual the next morning that turns that whole mess of flesh, blood and bone into a liquid so pure and well-flavored it is like drinking a healing cup of sunlight.
In telling you this tale, I am also writing down instructions on how to go about making French-style white chicken stock in your own home. I hesitate to call this a recipe, because no amounts for the ingredients are given. It all depends on how many chicken bones you have collected and how long you want to simmer them. But, I do guarantee that if you follow these directions, you will make a fine pot of chicken stock which you can then freeze and hoard like gold in your kitchen, or use it profligately until it is spent, kissing all of your cookery with the distinctive essence of our most beloved barnyard fowl.
Chicken Stock: The Fundamentals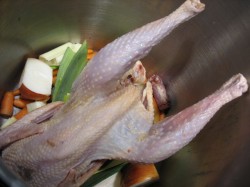 Stock comes from bones.
Meat gives it flavor and depth, so it is wise to leave some of it on the bones that you use, but the true essential qualities of stock–its fragrance, richness, and its body–not to mention its healing properties–come from bones. Actually, it comes from the marrow of the bones, which is the spongey matter inside the hard calcified matrix of the bones, from which arises blood and bone cells, and from the connective tissues that hold the bones together.
It comes from all of those ugly but necessary things that reside within animals and our bodies that we never think of–our skeleton. The fluid of life comes from what is, in our culture, the symbol of death, because of course, in normal circumstances, we do not see bones on living persons or creatures. We only see them after death. Until then, they lay hidden deep within us, giving our bodies structure and strength, giving us the ability to walk upright and not fall into puddles of undifferentiated flesh.
To make stock, one must set aside squeamishness and fear. One must learn to look critically at the various body parts of chickens most Americans do not really think about or gaze upon, and one must handle them. Like touch them, and stuff. And one must do this without remorse–for indeed, the chickens involved are certainly no longer using them! But, if one is without remorse, one should handle the bones of chickens with respect and understanding that they did indeed give their lives so that we could eat and enjoy them.
I see the frugal nature of making stock–which is essentially taking what many people consider to be a waste product–to be a highly respectful action toward the chicken–because I am putting to use that which would otherwise be buried in a landfill, or worse, ground up and fed to some other animal who is not necessarily a carnivore.
So, the fundamental ingredient of chicken stock is chicken bones. Where does one get them? (Other than from dead chickens….)
Mine are all from local farmers, most specifically from two local Athens area farmers who raise free-range birds, some of them heritage breeds, for the local market.. I buy whole chickens and bone-in chicken parts all through the year, and when I am finished with the bones, I stick them in the freezer, cooked or not. One farmer with whom I am particularly close also gives me chicken backs, necks and feet–parts that he has the slaughterhouse throw away.
Chinese markets also will sell you chicken feet and necks (because Chinese folks know what goodness resides within those chicken parts and love to use them for soup as well as to eat), as will a reputable butcher. You might try asking at the regular grocery store, -if- they have a real meat department with real meat cutters and butchers on staff, but most of them won't these days. But, if you live in a reasonable sized city, rest assured, you will be able to find some chicken feet and necks, and quite possibly some backs.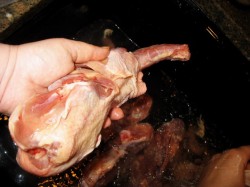 These normally wasted parts of a chicken make an already good chicken stock excellent, especially the feet.
Why the feet?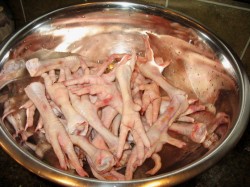 Well, because they are filled with a lot of connective tissue made of collagen and small, fragile bones filled with gelatin. These two ingredients give stock a quality of richness and body. When a stock made with plenty of chicken feet in it is cooled, it thickens into a gel–almost a consumee. When such a stock is hot, it has a feel on the tongue that is like velvet, and it makes superior soups, gravies and sauces, because as it reduces it thickens and that velvety mouthfeel intensifies along with the flavor.
Before using your bones, you should rinse them off and make sure they are good and clean, especially parts that are normally thrown away, like feet and backs. The slaughterhouse they came from may not be very assiduous in keeping such parts as clean as they might, so it behooves you to give them a nice going over under cold running water. Trim away excessive bits of fat, but not all of it–fat is where flavor resides after all–and remove excessive hunks of skin, because it doesn't really add much to the stock but excess fat. (If you have dogs, as I do, they appeciate a snack of skin and fat.)
Then, you toss your bones in the pot atop a layer of vegetables, and perhaps the body of a whole chicken that you are cooking along with the stock for extra flavor, and so you can have some good chicken soup, or pot pie, or chicken and noodles for dinner after all is said and done. (If you use a whole chicken, do not add the giblets–the gizzard, the liver and the heart. They make stocks bitter, so leave them out. Cook them separately, save them in the freezer or feed them to your dog or cat.)
What vegetables?
In the French tradition, one uses carrot, celery, onion and leeks, and sometimes, but not often, parsnips. One need not peel these vegetables, but one should scrub them heartily, and cut them into managable sizes to go with the side of your stockpot. (I have a 20 quart stockpot and a thirty quart canning pot, so I don't do much more than cut leeks and onions in half and long carrots in half if I must.) I don't use celery, but instead throw a tablespoon or so of celery seed into the pot, which gives the same flavor without me having to buy celery especially for stock. Since I strain my stock anyway, I needn't worry about the seeds clouding it up and making little dirty looking flecks in the finished product.
Use yellow onions, and leave the skins on–wash them well in cold water first, of course, and cut off the root ends. But leave the skins on, for they give chicken stock that golden delicious color that it has. Do not be fooled by yellow-skinned hens–Tyson's feeds their chickens calendula petals to color their skin and feet naturally yellow. (The things you find out in culinary school are amazing–and most of the good stuff comes as asides from the chefs and professors, like this bit about Tyson, chicken skin and flowers.) Otherwise, these parts would be pink or white. The calendula, also known as pot marigold, have a natural dye in them that colors the birds skins, and gives them appearance of being rich and fatty (chicken fat is naturally yellow.) They aren't. Yellow skinned birds are no better than white skinned or the rare black skinned birds. They just are wearing cosmetics is all.
The fat of a chicken will color the stock gold, but yellow onion skins are a traditional addition to make the stock even more pretty. It does no harm, and in fact, makes the stock as pretty as you see in the first photograph of this post, so please, go ahead and leave the skins on.
If one uses leeks, as I did, one must cut them lengthwise in half, and cut them crosswise in half, and then separate out all of the layered bits of their flesh and soak them in a sink full of cold water, swishing them around to get all of the dirt and grit out. Lift them from the water, drain the sink, and repeat this process at least three times, always lifting the leek bits from the water, to allow the grit to fall to the bottom of the sink and go down the drain.
Parsnips add extra sweetness to the stock, which is why they are not classically used, unless one is making a specific soup from the stock, or one is making a regional variant on plain chicken stock. Treat them just like carrots, giving them a scrub, and throwing them in whole, or in halves.
The herbs one uses are thus: rosemary, bay leaf, thyme, parsley and sometimes sage. One usually ties them up in a bag of cheesecloth, along with about a teaspoon of whole peppercorns, before lowering them into the pot. This keeps herb bits from floating away and clouding up the stock, but if you take the time to strain your stock after it is cooked, one need not worry about tying up ones herbs in the first place. I prefer using fresh herbs, but dried ones will do.
I add salt right away to the stock, because it helps dissolve the flavoring elements into the liquid, and because I believe in seasoning from the beginning of a recipe. But, I add it with a judicious hand, knowing that the stock will simmer uncovered for a very long time and the flavors will concentrate as the liquid reduces, so I am careful not to just pour handsful of salt over the bones and chicken carcasses.
I also add a judicious amount of dry white wine at the beginning, pouring it over the bones. For this stock-making day, I used a full bottle of dry Riesling, split between the two pots.
After all of that is in the pot, one adds water.
Cold water.
Always start your stock with cold water, for several reasons.
One, it is more efficient to dissolve the gelatin in bones gradually with cold water slowly brought to a simmer. This extracts the full amount of the gelatin, whereas starting with hot tap water does not. Two, it results in a clearer stock, because heating the bones and flesh up gradually results in less of a release of fats, blood and other impurities (more about this later) into the liquid.Three, you are less likely to end up overheating your stock to a rolling boil, which you -must not- do, because it results in a cloudy stock that will never clear up, because all of the impurities get roiled around in the liquid and will refuse to float to the surface where they can submit to being skimmed and discarded.
Skimming the Scum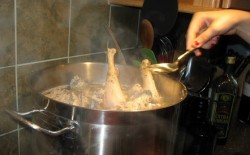 There is Morganna, diligently skimming the accumulated scum that floats to the top of the slowly warming stockpot as blood and other impurities are driven from the bones and flesh of the birds by the gradually heated water. This is a most important step. If you let all that nasty-looking scum stay in your stock, you will end up with a disreputable-looking pot of dirty dishwater that smells and tastes bitter. If you let your stock boil at this time (watch the fire and the stockpot like a hawk, and keep turning the flame down as the pot heats until it is on as low as it will go and keep the pot gently bubbling), you will end up with stock that is inedible and gross. Why bother with that? No one wants to eat or drink dishwater, so when the foamy scum slides to the top of the pot, skim it off, and pour it down the sink. Not even cats or dogs much like this stuff–it really is icky.
I remember being in stocks and sauces class–the first class of culinary school, and hearing Chef Aukstolis, a great bear of a man, bellowing, as he marched past the row of cauldron-like steam kettles (one could cook a person in them, they were so large), "Skim the scum! Skim the scum, or your stock will suck." He would pause and then say, "And say it with me!"
And we would all join in the chorus of his mantra, no matter where we were or what we were doing. We would recite with him, "If your stock sucks, your sauce will suck!"
Truer words were never bellowed.
So there you are. Skim that scum, often and well, in the early part of stockmaking.
You will likely have to do this three or four times after the stockpot comes to a good bubbly simmer. After that, the nastiness will have been purged from the bones, and you can relax, leave the top off the pot and just watch that it doesn't boil.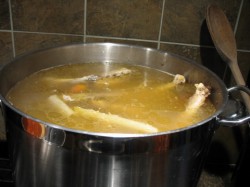 At this point in the stock-making one can sit back, and just let the fire, the water and the bones do their magic. Let them simmer. Keep an eye out that they do not boil, and if a stray bit of scumminess floats to the top, skim it off and toss it out, but for the next oh, six to twelve hours or so–depending on how long you want to stay in the house and go back and forth and watch the stockpot, you can just let it go on its merry way while you enjoy the rich aromas that will begin to pour forth from the pot and scent your home with the savory, comforting fragrance of Grandma's best chicken soup.
Finishing the Stock: Picking Meat and Straining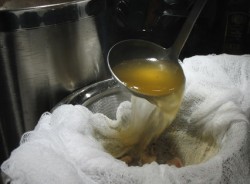 We are in the home stretch now.
We are also at the part of our tale where The Bad Guy arrives. I shouldn't say arrives–Ozy was in the kitchen the entire time the stockpots bubbled, drawn by the irresistable smell of cooking chicken. However, he did become most active during this stage of the stock-making process. Ozy is our oldest cat and to say that he is pushy is an understatement. When it comes to chicken, he is a master of putting himself right in the line of fire, just on the off chance he might trip up an unwary cook and they might drop a tidbit or two on the floor, where he pounces upon it and gobbles it up with a speed that belies his age and infirmity.
He is a right bastard about it, a bandit of the old school, and is as wily as a certain cartoon coyote, but is much more successful at getting dinner than his celluloid brother.
Needless to say, the operations I am going to describe to you go more smoothly if you do not have an irritating cat (or dog) underfoot.
When you have determined that your stock tastes as strong as you want it, or you are ready to go to bed, whichever comes first, it is time to strain the stock, pick the meat from the bones (if you want to) and discard the leavings, which are, at this point, a hideous mess of ugliness.
I cooked this batch of stock for close to twelve hours, and ended up with a very rich result.
To strain the stock, line a fine chinoise or mesh strainer with two to four layers of cheesecloth as shown in the photograph above, and set it over a clean pot that will fit into your refrigerator. I am lucky in that I had a completely empty fridge in which to put all twenty four quarts of stock I made on Saturday–if you are not so fortunate, make smaller amounts of stock! Then, ladle out the stock from the cooking pot into the holding pot. Do not try to pour from one to the other–you are likely to make a mess that way.
As you get down into the bones and mess of vegetables and possibly your whole chicken carcass, and you cannot easily ladle out the stock, use tongs to lift out the solid leavings,set them aside on a plate, and if you want, pick out the meat from the bones. (Of course, I did this, and saved the meat. I have since used the very flavorful flesh (and stock) in chicken and noodles and jambalaya, and plan to make chicken pot pie with it later this week.)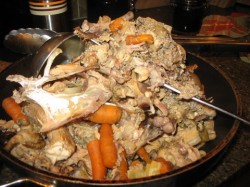 You can lay these bones and vegetables onto layers of cheesecloth, and when they are cool enough to handle, you can wrap them in the cheesecloth, hold them over your strainer, and squeeze out any remaining liquid, in order to extract every bit of goodness left in the ugly leavings. After that, I always triple bag them and throw them away or bury them in a compost heap, because chicken bones are very dangerous to feed to dogs. As much as my pooches would love them, they shatter into needle-sharp shards easily and could puncture their esophogi and that is never a good thing.
At this point, you simply cover the strained stock with a lid, chill it down in a sink of ice water and then put it in the fridge, and allow it to cool and congeal overnight.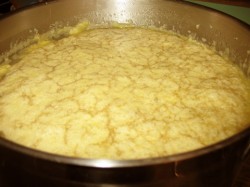 In the morning, when you check on it, you will see solidified fat floating in a layer over the top of gelatinized golden stock.
It is simple to use an ordinary spoon to skim off as much fat as you like from the surface of the stock, and then stir in what is left. I like to leave a good bit of fat in the stock, because it adds a great amount of flavor. But, you don't want to leave all of it, because it will make your stock have a greasy mouthfeel that will also make your soups, sauces and gravies suck. (Remember, if your stock sucks, your sauce will suck. Say it with me.)
At this point, all that is left is for you to ladle the cold stock into containers, label them, and stick them in the freezer. I like to freeze it in one quart containers. Remember to leave headroom, as liquids expand when they freeze.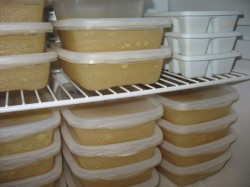 It is also a simple trick to freeze some into ice cube trays, then pop them out into ziplock bags afterwards in order to use these two tablespoon amounts in small batches of pan sauces, or in stir-fries where a tiny amount of broth or stock are called for.
There we are–the making of stock in all of its good, bad and ugly glory. It is not hard to do, nor does it require much culinary finesse. It only requires time, patience and attention to detail, but the results are very much worth the effort. The flavor of homemade stock will ehance your cooking much more than the use of commerial broths, and the results are very healthful and satsifying.
This, of course, is the typical French method of stock-making. Look for a post soon on the making of Chinese-style chicken stock: I have one more whole chicken in the freezer, along with some pork neckbones, so I want to make a goodly batch of it to have on hand, too. The methods are similar, but different enough to warrant a completely different post.
With that, I bid you good day, and good cooking!
128 Comments
RSS feed for comments on this post.
Sorry, the comment form is closed at this time.
Powered by WordPress. Graphics by Zak Kramer.
Design update by Daniel Trout.
Entries and comments feeds.