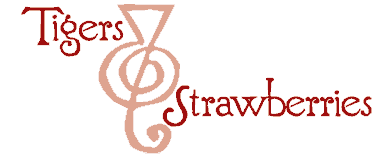 Cook Local, Eat Global
The number and type of greens available at the Athens Farmer's Market expands every season; this year, Larry and Kim Cowdery of Cowdery Farms, have had success with one of my favorite greens–broccoli rabe. Also known as broccoli raab or rapini, this Italian brassica is closely related to turnips, and is similar to my favorite Chinese green, gai lan. It is more bitter than gai lan, however, and its stalks are not as meaty and tender as the creamy jade-colored stalks of gai lan.
I love broccoli rabe in Italian dishes–especially when it is paired with other strong, earthy flavors like Gorgonzola cheese and toasted walnuts (Fettucine with Rapini Gorgonzola and Walnuts) or fresh shiitake mushrooms (Brittney's Skillet Spaghetti with Shiitake and Rapini), but I wanted to know how it would taste sauteed in the Indian style, with spices, caramelized onions and garlic and lemon juice.
I suspected that the slightly nutty, bitter green would taste delicious when paired with the earthy aroma of toasted whole cumin and mustard seeds, and I am of the opinion that any green is made tastier with liberal application of sweetly browned onions and garlic. And of course, a little bit of chili pepper makes everything, including chocolate, taste better.
It turned out quite well–broccoli rabe or rapini, sauteed in this way makes a great, quick vegetable dish to go with more complex, long-cooked vegetable or meat curries or grilled meat dishes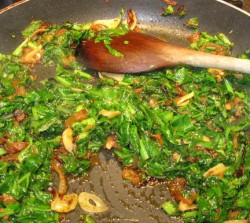 Indian Style Sauteed Broccoli Rabe
Ingredients:
3 tablespoons ghee or canola oil
1 1/2 cups thinly sliced onions
1/2 teaspoon salt
6 large cloves garlic, peeled and very thinly sliced
chili flakes to taste
2 teaspoons cumin seeds
2 teaspoons black mustard seeds
1 pound broccoli rabe/rapini, chopped into 1″ wide pieces
juice of one large lemon (about two generous tablespoons)
salt to taste
Method:
Heat ghee or oil in a heavy skillet. Add onions and sprinkle with salt. Cook, stirring, until the onions are a deep golden brown. Add garlic, chili flakes, garlic, cumin and mustard and continue cooking until the onions are deep reddish brown, the garlic is golden and the mustard seeds pop.
Add the broccoli rabe and stir to coat with the ghee or oil and then after it wilts slightly, add the lemon juice, and continue cooking, stirring, until the leaves wilt and turn a deep green.
Add salt to taste and serve immediately.
1 Comment
RSS feed for comments on this post.
Hi Barbara – – just stopping over at Jan's recommendation. Great site! I can't wait to spend a little more time here. LOVE Indian cooking!

Comment by Elaine at Lipstickdaily — May 31, 2009 #
Sorry, the comment form is closed at this time.
Powered by WordPress. Graphics by Zak Kramer.
Design update by Daniel Trout.
Entries and comments feeds.