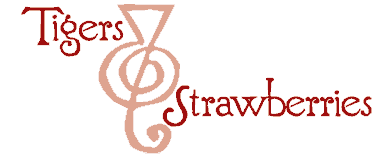 Cook Local, Eat Global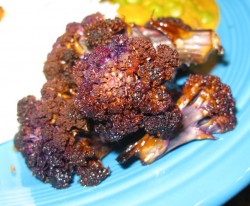 So, by now, everyone who reads this blog regularly should know that I like purple cauliflower. I've already featured it in two different Indian recipes: Gobi Mattar and Broccoli and Cauliflower with Panch Phoron., and here I go with another one. (The truth is, I like all kinds of weird colored vegetables–like blue potatoes, black tomatoes, and golden beets, but I extra special like purple cauliflower.)
Anyway, I bought yet another head of the pretty violet vegetable at the farmer's market and wanted a new way to cook it.
I don't remember where it was that I first read about roasted cauliflower, but I had been meaning to try it for a while, and just hadn't gotten around to it. I mean, how can it be bad–roasting vegetables just brings out their inherent sweetness, and softens their interiors, while crisping the outsides. Oooh–great flavor and cool textural contrasts! Viva la roasted vegetables.
And in thinking about it–of course I had to roast cauliflower–I already love the sweet flavor -and- the creamy texture–both of which will be boosted greatly by roasting.
But why do the classic European/Californian roasting recipe of tossing the vegetable in question with olive oil, garlic, salt and pepper and maybe lemon juice? Why not do something different?
So, here's what I did.
I melted ghee–Indian clarified and browned butter which has a delicious nutty flavor–then stirred in salt, a squeeze of lemon juice, Aleppo pepper flakes and whole cumin and mustard seeds, then tossed the cut cauliflower in it, and dumped it all out on a silpat-lined baking sheet. Then, I popped it all in a preheated 400 degree F. oven and left it alone for about twenty minutes and then pulled it out.
And how was it?
Ooooh.
I -really- like roasted cauliflower.
A lot.
The edges got crispy–and tasted like the best potato chips in the world.
And the inside was creamy and sweet–like parsnips or chestnuts, almost.
And the spices burst in the mouth with smoky flavor, and the ghee made all of the browned flavors taste extra special nutty and the lemon, chili and salt made it all come together.
I -will- definitely be making this again.
Roasted Cauliflower with Ghee, Cumin and Mustard
Ingredients:
1 large head purple (or yellow, or yeah, even white) cauliflower, cut into florets
3 1/2 tablespoons ghee
1/4-1/2 teaspoon salt (or to taste)
1 teaspoon Aleppo pepper flakes
1 1/2 teaspoons whole cumin seeds
1 teaspoon whole black mustard seeds
1 tablespoon fresh lemon juice
Method:
Preheat oven to 400 degrees F.
Put all ingredients except cauliflower into a large bowl and melt together in the microwave.
Take bowl out of the microwave and toss the cauliflower into the ghee mixture and stir it around until the cauliflower is coated with the buttery-spicy-salty-lemony goodness.
Dump the contents of the bowl onto a silpat lined baking sheet and arrange so the cauliflower is all in one layer.
Slap that baking sheet into your preheated oven and let it roast until the cauliflower is tender on the inside and lightly browned and crispy on the outside–about 20-25 minutes.
4 Comments
RSS feed for comments on this post.
Sorry, the comment form is closed at this time.
Powered by WordPress. Graphics by Zak Kramer.
Design update by Daniel Trout.
Entries and comments feeds.