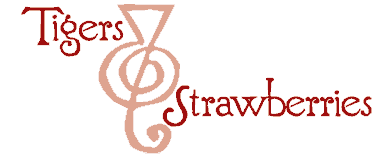 Cook Local, Eat Global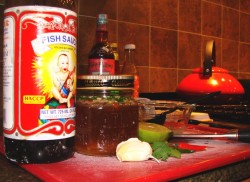 Vietnamese food, for all that I have seldom cooked it in the past, may become my newest culinary obsession.
Why?
Because the flavors are fresh, delicate and delightful.
Like Thai and Chinese foods, Vietnamese foods are an exercise in balance between flavors, colors, textures and aromas.
One of my favorite aspects of Vietnamese cookery is the prevalent use of and love for fresh herbs. The Vietnamese people are serious about their herbs and use them with a generous hand, eating them often as salads in and of themselves. The bright, intense flavors explode on the tongue, in a dazzling array of fragrance and texture. The use of strongly flavored fresh herbs enlivens Vietnamese foods, bringing a sparkle and brilliance to the plate that is hard to resist.
Another favorite aspect of Vietnamese cuisine for me is the use of table sauces and condiments, most of them freshly made.
Nuoc Cham, one of the most ubiquitous of these sauces, while it has endless variations, is essentially a mixture of fresh Thai bird chilies, fresh garlic, sugar, lime juice and fish sauce, cut with a bit of warm water.
As a perfect balance between hot, sour, salty, sweet and savory flavors, the sauce excites all of the taste buds on the tongue at once, leading to a spirited dance of the palate. Variations of the sauce include shredded fresh vegetables such as carrots or diakon radish for texture and added earthy sweetness, fresh herbs such as cilantro for a deep green fragrance, or some shallots, extra chilies or garlic for added bite. Every household has its favored variants, and different recipes are used to enhance different foods.
However it is made, it is imperative to make the sauce the day it is to be used, and it is best if one leaves it out at room temperature for at least twenty to forty minutes before it is to be served so the flavors can mingle and become friendly together.
What is it used for?
As a dipping sauce, condiment, marinade, or salad dressing. It can be puut onto or into just about anything and make it tastier. It goes beautifully in soups, is great as a dipping sauce for spring rolls, it can marinate fresh vegetables as a simple salad, or it can be used to bathe noodles or rice in flavor.
I personally love thinly sliced cucumbers and red onions marinated in it as a sort of salad or relish. Daikon is great treated this way as well.
I have been known to sneak a spoonful to sip neat when no one is looking. I think it tastes just that wonderful. Heck, it even makes plain old ramen taste awesome!
One thing I must note here. When one is using fish sauce uncooked, as a table condiment, it pays to use the best, most brightly flavored sauce one can buy. My favorite brand is Golden Boy, which is Thai; it has a light, smooth flavor that is neither harshly salty nor funky-fishy, but is just all-around full of umami goodness.
Here is my favorite version of this most essential Vietnamese table sauce. Mine is quite garlicky and hot, with a sweet green fragrance from the cilantro and the optional mint and lime zest. Use this recipe as a guideline for creating your own version of the recipe.
Tomorrow, I will write up a dish that just would not be the same without nuoc cham so you can get started using it as soon as possible.

Nuoc Cham
Ingredients:
3-4 fresh red or green Thai bird chilies, very thinly sliced
2 medium sized fresh garlic cloves, peeled and minced (about 1 1/2 tablespoons)
1 tablespoon minced fresh cilantro
1 teaspoon fresh minced mint leaves (optional)
1/4 teaspoon fresh minced lime zest (optional)
3 tablespoons raw, brown or palm sugar
5 tablespoons fish sauce (Golden Boy brand is the best)
1 1/2 tablespoons fresh lime juice
2/3 cup warm water
Method:
In a clean glass jar, combine the solid ingredients with the liquid ingredients.
Screw on lid to jar tightly, and shake vigorously, until the sugar is dissolved.
Allow to sit for twenty to forty minutes at room temperature before use.
You may store leftovers for about three days in the fridge, but the flavor balance is negatively affected; the chili heat becomes stronger and the garlic flavor more prominent. It is best, really to make only as much as you are going to use at a given time and use it up then.

A couple of days ago, Aileen from Canada wrote to ask me what my favorite brands of some staple Chinese pantry items were.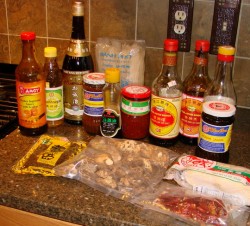 I thought that was a fair question, and is one I have been asked often, so I figured it was high time I got around to actually writing a post listing what I thought the most necessary basic Chinese pantry items were, what to look for in them, and where to buy them. So, I dug around in my over-stuffed pantry closet and narrowed all the goodies down to fourteen simple basics, many, if not all of which are available at most large American supermarkets. With the items in this list, augmented by general pantry staples such as sugar, salt, cornstarch, peanuts, chicken broth, long grain rice, peanut or canola oil, and black pepper, one can take most fresh ingredients such as tofu, meats and vegetables, and create a plethora of dishes from every province of China. (Look for another post sometime soon on a few optional items which will extend the range of dishes that can be created if they are added to this basic Chinese pantry.)
As I said, many of the items on this list can be found increasingly in American grocery stores. You may not be able to find the specific brands that I prefer, but if you lack access to a local Asian market or prefer not to shop in one, and do not wish to order these items online, then go with the brands you can get. For those items on the basics list which cannot be found in a typical American grocery store, I will list good substitutions. Please also refer to the photographs for product identification; some of these ingredients, such as the wine and the fermented black beans, have primarily Chinese characters on the labels, so the photographs will help you figure out if it is the brand I am talking about or not.
(Important: For those of you who are wheat and gluten sensitive–many of these items contain wheat. This includes soy sauce, so please, read labels! For wheat free soy sauce–use tamari soy sauce. My favorite tamari is San J brand which can be found in health food stores, regular supermarkets and some Asian grocery stores.)
Most of these items have a long shelf life; I will give storage tips and shelf-life information where it is applicable.
Finally, what should you do if you prefer a brand of an item which your Asian market does not carry? How do you get them to order and stock what you want without struggling too much with the language barrier?
There are two simple answers to this question. The first and easiest method is to save the package, bottle, jar or can of the product you prefer, cleaning it up so it doesn't get sticky and smelly. Then you take the cleaned up container to your friendly neighborhood Asian market where you shop and hand it to the owner while asking, "Can you order this?"
The other method involves finding a picture of the product online. Print out the photo and bring it with you to the shop, show them the picture and ask if they can order it.
If neither of those gambits work, at the end of this post I will give several tried and true online grocers you can order from.
The Basics
Light Soy Sauce: This is not "lite" soy sauce as in low-sodium soy sauce; this is your standard, basic soy sauce, which is sometimes also called on the bottles and in cookbooks, "thin" soy sauce. (For an extended discussion of the different types of soy sauce and their uses, see my post A Soy Sauce Primer.) The brands of light soy sauce I prefer are Kimlan Premium Aged and Pearl River Bridge, in that order. The thing to look for in any soy sauce you buy is that it is naturally brewed, and while I would prefer that everyone use Chinese soy sauces in Chinese cooking, if all you can get is Kikkoman's naturally brewed at your grocery store, by all means, use that. Soy sauce keeps nearly forever and does not need to be refrigerated, though I know of quite a few people who don't use it often who do refrigerate it.
Dark Soy Sauce: This soy sauce is basically thin soy sauce to which caramel or molasses has been added, giving it a slightly sweeter flavor, a thicker texture and a darker, more reddish color. This is the soy sauce that is used to give red-cooked (braised) dishes their lovely color, and it is widely used in beef stir fries. In cooking beef, the sweeter flavor gives a good fragrance and flavor balance to the strong taste of beef, and it gives a very good dark color to the cooked meat. Again, my favored brands are Kimlan and Pearl River Bridge. Again, look for naturally brewed dark soy sauce, and if you cannot get it at your local grocery store, I suppose one could use thin soy sauce with a small amount of Kitchen Bouquet to simulate dark soy sauce, but as I have never tried that trick, I don't know whether the flavor would suffer as a result.

Rice Wine: I prefer Shao Hsing wine, which is not a brand, but a type of Chinese rice wine. It is amber-colored and very nutty with a slightly sweet aftertaste. The brand I prefer is unsalted–it is drinking quality, not "cooking wine"–and it comes with either a red or gold label with Chinese characters on it. The fine print in English identifies it as being made by the Zhejiang Cereals, Oils and Foodstuffs Company, Shaoxing Wine division. It is not very easy to find, so if you cannot get it, the best substitute that most Chinese cookbooks stipulate is a good quality dry sherry. I concur–in cooking both Chinese and European foods, I have used the two wines interchangeably with no noticeable difference. However, I have to admit that if I am sipping, I prefer Shao Hsing–the nutty flavor is just lovely and it has a distinct warming quality that for me sherry lacks. Shao Hsing does not require refrigeration and lasts forever.
Rice Vinegar: Rice vinegar has a softer flavor than either cider vinegar or distilled white vinegar. It is used both in Chinese cooking and in making uncooked sauces, dressings and dips. Be careful if you use a Japanese rice vinegar that it is unseasoned–many Japanese brands in American grocery stores are pre-seasoned for use in sushi, so they have added sugar, which would mess up the flavor balance of your dish if the vinegar is only meant to be sour, not sour and sweet. If you cannot find any rice vinegar, Australian-based Chinese chef, Kylie Kwong uses malt vinegar as a substitute. I haven't tried it myself, but I suspect it would be very good. The brand of rice vinegar I use is Kong Yen Genuine Brewed brand with the yellow and green label. Vinegar does not require refrigeration and lasts forever.
Oyster Sauce: Oyster sauce is made from oyster extract, sugar, starch, salt and water. What you want to look for is a brand where oyster extract or oysters are the first ingredient listed. If sugar, MSG or salt is the first ingredient, put the bottle down and step slowly away. It will taste harsh and icky and will make your food taste harsh and icky. My favorite brand used to be Lee Kum Kee Premium Oyster Sauce until I found Amoy Oyster Sauce with Dried Scallop. Wow! That stuff is rich, delicious and fragrant and has kicked my Cantonese recipes up several notches. If you can find it, grab it up and try it out. I always keep oyster sauce refrigerated, and I suggest you do the same. Since the sauce is so thick, it helps to take it out a couple of hours before cooking to warm it up so you can get it out of the bottle. Alternately, you can screw the cap on tightly and store it upside down in the fridge so you can always get the sauce to come out even if it is cold.
Hoisin Sauce: Hoisin sauce is a dark, thick jam-like condiment that is made from fermented soy beans, wheat, sugar, garlic and vinegar. This salty-sweet-tangy sauce is used both at the table and in cookery. Although I have seen it kept on the table unrefrigerated in some Chinese and Vietnamese restaurants, I always refrigerate mine. The brand I use comes from Koon Chun Sauce Company–it has a yellow, blue, white and red label that is fairly low key.One side of the label is written in English, and the other in Chinese, so if you can only find sauces with Chinese writing, turn them around, and you can read the other side. All of their sauces are good, though. Many American grocery stores also carry Lee Kum Kee brand, which has a more colorful label, and which is quite tasty, too.
Ground Bean Sauce or Bean Sauce: This is probably one of the most versatile ingredients in the basic Chinese pantry. (For an in depth discussion of Asian fermented soy pastes, see Soybean Pastes: A Primer.)The two medium brown fragrant products are the same, except ground bean sauce has been ground into a thick puree. Which one you choose to have around depends on whether you want your Chinese dishes to have chunky or smooth sauces. (I tend to keep the ground bean sauce around myself. And yes, I also prefer smooth peanut butter. Sans salmonella, thank you.) Made of soy beans, salt, wheat, and sugar, and unnamed spices, this sauce gives a burst of umami "oomph" to any dish with just the addition of a teaspoon or two. It is great with meat or tofu dishes. The brand I prefer is Koon Chun, but again, Lee Kum Kee's is also good.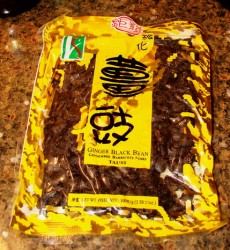 Fermented Black Beans: These little black, wrinkled salty wonders have become one of my favorite pantry items of all time, and I use a lot of them in my cooking. These are black soybeans which have been cooked, salted and fermented, often with slivers of ginger, and this treatment turns them into flavor powerhouses. They smell somewhat like a good aged cheese, and surprise! They are absolutely filled with natural glutamates. They make whatever they are stir fried, stewed, steamed or simmered with taste amazing. I cannot praise them highly enough. They are quite inexpensive and are easily found in Asian markets, packed either in cardboard cartons, jars or cellophane packets. I use one of the brands that comes packed in small cellophane packets–the front of which are labelled mostly in Chinese in gold, yellow and black. The packets are clear so you can see the beans, and in fine print on the back, you can read in English, "Kui Fat Food Company, Hong Kong." The only substitute for these beauties that I can think of would be black bean and garlic sauce, which made by Lee Kum Kee, can be found in many American grocery stores. While they probably don't need it, I store them in the refrigerator, and like most fermented products, they last for years.
Sesame Oil: When I say "sesame oil," I am talking about the dark amber-colored, toasted sesame oil that is used in small amounts for seasoning, not the pale colored cold-pressed stuff that is used for cooking and salad dressings. Widely available both in the Asian sections of American grocery stores and Asian markets, toasted sesame oil is a necessity in the Chinese kitchen. Used at the end of stir frying or to dress steamed or braised dishes, a tiny amount of this very strong-flavored nutty oil will impart exceptional fragrance to any dish. It is also widely used in dipping sauces, cold noodle dishes and salad dressings, and is ubiquitous in many Asian cuisines. My favorite brand is Kadoya, which is Japanese, and is easily recognized because the bottle has a pinched-in "waist." My advice is to buy the smallest bottle and keep it at room temperature in a dark, cool place. It will last for a good long time, but if it starts to smell rancid, obviously get rid of it. If you live in a very hot climate without air conditioning, go ahead and store it in the fridge, and just take it out a few hours before using it to warm it up to room temperature.
Chile Garlic Sauce: This tasty condiment is usually made of chilies, garlic, and salt, all ground together into a thick liquid. Some brands add a bit of vinegar or sugar to tweak the taste of this gloriously scarlet sauce, but most of them taste much the same. It is used to add tangy heat to cooked dishes, dipping sauces and dressings. The two brands I favor are Lee Kum Kee which is often found in American supermarkets, and Oriental Mascot, which is a bit less sweet and a bit hotter. I do store this one in the fridge, even though it likely isn't necessary.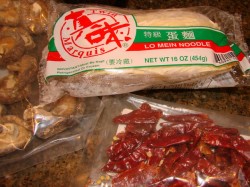 Dried Chilies: While my favorite dried Chinese chile peppers come from Penzey's (Tien Tsin–these lovely little fellows are hot to trot), any dried 1-2 inch long deep red chilies you can get from the Asian market or the Asian section of your grocery store will do to make great Sichuan and Hunan favorites like Kung Pao Chicken. You can substitute red chile flakes from your grocery store, but only if they are very fresh. (They are not as versatile, in that you cannot keep the seeds out of them, as you can with whole chilies, but they also are not as hot as the Chinese or Thai chilies you get from the Asian market. I store my whole dried chilies and chile flakes in the freezer because I buy them in bulk. If you get them in smaller amounts, just keep them in an airtight container in a dark, cool cabinet. These will eventually lose potency after a year or six months, however, no matter how carefully you store them, so buy only as much as you think you will use quickly.
Dried Black Mushrooms: Also known as Chinese black mushrooms, these are nothing more than dried shiitake mushrooms. Commonly found in all Asian markets, and available in some American supermarkets, these dark brown mushrooms may not look like much, but they pack a powerhouse of flavor and texture in a small, often wizened, package. I don't use any particular brand of them; I just look for the nicest variety I can afford. In general, what you want are plump, dark brown caps with lots of paler crackles on them such that they resemble flowers. Thinner, darker caps often have little flavor and seldom rehydrate well. One could substitute fresh shiitake mushrooms, but at a significant flavor and texture loss. When you soak the dried mushrooms in warm water, chicken broth or wine, you end up releasing the natural glutamates present in the mushroom. Then, after that soaking liquid is filtered, it can be used to add flavor to whatever you are steaming, stir-frying, simmering or braising. Also, dried mushrooms have more flavor and a chewier texture because when they are rehydrated, you never get all of the original volume of water back into the tissues, so the flavor is concentrated when compared to a fresh mushroom. I have successfully dried fresh shiitake mushrooms just by leaving them out in a dry dark place in the winter in my house, if you want to give that a try. Storage for these is simple–keep them in an airtight container somewhere cool and dark, and they last for a very long time.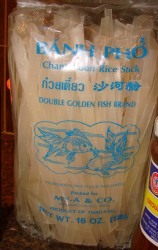 Dried Rice Noodles: I am seeing these dried "rice sticks" as they are sometimes called, appearing in more and more mainstream American supermarkets, and that is all to the good. They are good in soups, or soaked and then stir fried for chow fun, though, in truth, fresh rice noodles are better for the latter dish. (Better, but much harder to find, alas.) These are inexpensive, they keep forever and a day, and they come in all sorts of sizes. I find the quarter to half inch width the most useful, but I keep a variety on hand for whenever I feel like making a cheap, tasty meal. You soak these in warm water then drain before stir frying them, or simply boil them before adding them to your soup. I have found no particular brand to be better than any other, either, so buy what you can find.
Dried or Fresh Wheat Noodles: This is a very broad category, for the Chinese love their noodles. Wheat noodles can come with or without egg, and they can come par cooked and dried, deep fried and dried, fresh and refrigerated and fresh, then frozen. I tend to keep non-egg dried wheat noodles in my pantry, as well as some fresh, frozen egg-containing lo mein noodles as well. For many applications, such as noodles in soup, or cold noodle dishes, one can substitute ramen (but leave off with the seasoning packets, and be aware that these noodles are deep fried and are thus not good for the waistline), or even Italian spaghetti. For stir fried noodles, I prefer fresh Chinese egg noodles. Some American grocery stores carry the fresh noodles in their refrigerated sections next to wonton wrappers, while other grocery stores carry dried Chinese wheat noodles in the Asian section. Look around and see what you can find. For dried noodles, I have no particular favorite, but I do like Twin Marquis brand fresh frozen lo mein noodles.
Finally, here are a couple of places online where you can order Chinese ingredients if you have no Asian market nearby and your grocery store has an inadequate Asian foods section.

The Oriental Pantry
When I wrote the post on monosodium glutamate yesterday, I neglected to really explain what glutamates are.
Simply put, they are amino acids, which are the building blocks of protein. There are specific glutamate receptors on our tongue, which allow us to experience the taste which in Japan is called "umami." This fifth taste is one of savory, meatiness, and is naturally occurring in glutamate rich foods such as seaweed, fermented soybean products, fermented vegetables, meat, shellfish and certain types of vinegar.
Nika, at Nika's Culinaria, wrote an excellent well-researched post explaining the chemistry of MSG and the health implications for humans ingesting large quantities of it. In light of her findings, I am less sanguine about trying out a pinch or two of MSG in my own cooking, even if that means I never quite manage to replicate that dish of stir fried bean sprouts and shrimp that lives in a golden haze in my memory. I think I will stick with the natural sources of glutamates as I have always done.
Last year, I wrote a series of posts about umami that explained the chemistry, the uses and where to find natural ingredients that include a healthy dose of glutamates which readers new to the concept may find useful and interesting.
Here are the links:
For the introductory overview: Do You Know Umami?
All about soybean sources of glutamates: Got Umami? Soybean Ingredients of the East
Information on glutamate ingredients from the sea: Umami From the Oceans of Asia
Glutamates in vegetables: All the Greens that Grow–Umami in Vegetables
Glutamates in meats: Umami–The Meat of the Matter
Fermented and fungus-based glutamates: Umami–The Power of Fermentation and Fungus
Western glutamate ingredients: Umami in the West
What you will find in reading through these archived posts is that there are lots of natural sources for glutamate in food, and a clever cook can employ these ingredients to give their dishes a little extra "oomph" without resorting to MSG.
Most of the recipes presented on this blog are ones that either are, or have become, favorites at my house, and they turn into standards that live in my head, and I no longer have to seek the written recipe in order to recreate them.
However, these recipes do not stay static. I do not make them the same every time, because I may not always have the necessary ingredients on hand, I may be cooking for people with different food preferences, or I just want to try something different.
Sometimes, I just happen to have some vegetables in the fridge that need to be cooked, and so into the pot or wok they go.
And, more often than not, the variant recipes come up because of a combination of the reasons cited above.
But, for whatever reason, I have some notes on how to make variations on several of my Chinese recipes, and I wanted to share them with you all, in one post, because none of the variations are substantial enough to warrant a single post on their own. But, in combination, they may help inspire readers to free their woks and minds and cook up some new Chinese dishes in their own kitchens.
The dish photographed above is a very simple variation on the classic Cantonese Chicken with Bitter Melon. With the classic dish, you get pretty much what it says: chicken and bitter melon. All the other ingredients are aromatics meant to flavor the light sauce and complement the costarring foods. For this variation, which I poetically like to call, "Phoenix with Two Colors of Jade," I used the basic recipe with one simple addition: an orange sweet bell pepper, sliced thinly, and it turned out magnificently.
The texture and translucent color of the pepper matched those qualities in the melon, while the mouthfeel was slightly softer. What really made it wonderful was that the sweetness of the pepper was a perfect foil to the melon, without adding extra sweetness to the sauce.
I added the pepper near the end of the cooking, within the last minute, so that it didn't get too soft or soggy.
Another great favorite recipe in my household is Ma Po Tofu, and is one that normally I would not play around with overmuch. However, last week, when the snow was deep, and the temperatures were below freezing, we had house guests in the persons of our dear friends Dan and Heather, who were escaping frozen pipes and a long drive to their place in the country. Heather is a Muslim, and thus cannot eat pork; if you are familiar with my recipe for Ma Po, you will remember that I use minced pork in it. Since it is the perfect recipe to warm the heart and stomach on a blustery night, I decided to go ahead and make it anyway. But instead of leaving the meat out of it entirely, I substituted ground lamb instead.
Lamb is not a meat one thinks of as a Chinese staple, but it is eaten often in the northern provinces, and is a staple among the Muslim population all over the country, so there was precedent for my choice.
The only other changes I made was I added two more cloves of garlic, a teaspoon more of fermented black beans and I was extra special careful to cook all the alcohol from the Shao Hsing wine out of the dish.
How was it?
Amazingly flavorful to the point where I cannot decide which I like better. Zak came down on the side of pork (no big surprise, as he is a big fan of the pig) and Morganna on the side of the lamb. Me, I am somewhere in the middle on the issue, and will have to give it much more thought.
Based on this experience, I am going to have to make a batch of lamb potstickers soon, just to, you know, see how they taste.
As much as I love Beef with Gai Lan, and every variant I have made of it, sometimes I don't want meat for dinner. Sometimes I want tofu, but I don't want it mixed with vegetables. So, what do I do in that case? Braise the bean curd, as in Peng's Bean Curd Homestyle, and stir fry up some greens, especially gai lan, at least when I can get a hold of it.
For stir-fried gai lan, I follow the first recipe for beef with gai lan, except that I obviously leave out the beef and the marinade for the beef. To the aromatics (scallion, ginger and garlic) I add a tablespoon of fermented black beans, which counteract the slight bitterness that is inherent to gai lan. I use dark soy sauce, and instead of fresh water chestnuts, I usually use red bell pepper. The sweetness of it goes very well with both the gai lan and the oyster sauce, and the brilliant scarlet color contrasts beautifully with the emerald green leaves and jade stalks.
There, then are three variations on three of my favorite recipes. I hope that this shows that if you learn the basic underlying techniques of Chinese stir-frying, that one is then free to either customize classic favorite dishes, or come up with your own combinations which, in the coming years, may become classics within your families.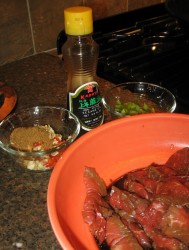 Cumin is one of my favorite spices; however, it is not a flavor one overwhelmingly associates with Chinese food. Rather, it is better known as an ingredient in Indian curries, Mexican braises and Mediterranean stews, so I was intrigued to see this recipe when I first got my hands on my copy of Revolutionary Chinese Cookbook.
Not surprisingly, beef with cumin is a specialty of the Muslim minority in China, and it is likely that cumin was brought to China along the silk road by spice traders from the Middle East and India.
The ingredient list is short and simple for this dish, and although Dunlop notes that one could use prime cuts of steak such as tenderloin to make it, she uses lesser cuts such as round and chuck, because cutting them thinly, on the bias against the grain, makes them nearly as tender as a more naturally tender cut of beef. I used a piece of top round to great effect here, in large part because that is what I had in my freezer. Left partially frozen and cut nearly paper thin with a very sharp knife, top round is just as wonderfully tender as a porterhouse steak, but with a deep beefy flavor typical of the tougher, more well-exercised muscles.At this point, I use top round for nearly all of my beef stir fries.
I do have to admit that I changed the cooking method. Dunlop uses the "velveting" method of cooking here; it is a method much employed by restaurants to cook meats to a slippery-tender result, but which I find messy, wasteful and extremely time consuming when done in the home. In short, it is a technique wherein the meat is marinated in a mixture that includes corn or potato starch and sometimes egg white. Then, it is "oil-blanched" in a vat of deep-frying oil for a very short time until it is partially cooked. Then, the oil is discarded or strained and saved, and the meat is stir fried until it is finished cooking, along with all of the other ingredients of the dish.
For a family dinner, I see no overwhelming reason to bother with the velveting technique. It results in the use of too much oil, time and energy for the result, which while it is good–is not -that- good! Not good enough to offset all of the work, mess, waste and nutritional impact.
So, instead, I followed my own usual method for stir frying meat, and found that the results were more than satisfactory; they were superb. In transcribing the recipe, I used my own techniques instead of copying out Dunlop's.
The meat was tender and flavorful, and fragrant with the musky scent of cumin, which was beautifully enhanced by the umami of the soy sauces. Garlic, scallion and sesame oil rounded out the flavors while the bright taste of fresh red chiles really sent the dish over the top.
The stir fry went together quickly and easily and went beautifully well with a dish of gai lan and sweet red bell peppers simply stir fried and flavored with ginger and fermented black beans.
This is another dish destined to be seen on our table frequently.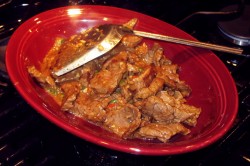 Beef With Cumin
Ingredients:
1 pound trimmed beef top round steak, cut against the grain on the bias about 1/8-1/4″ thick
1 1/2 tablespoons Shao Hsing wine
1 teaspoon light soy sauce
1 1/2 teaspoon dark soy sauce
1 tablespoon cornstarch
3 tablespoons peanut oil
2 teaspoons fresh ginger, peeled and minced
1 tablespoon finely chopped fresh garlic
2 fresh red chiles, (seeded if you like) minced
2-4 teaspoons dried chile flakes
2 teaspoons ground cumin
1-3 tablespoons Shao Hsing wine as needed
2 scallions, green parts only, finely sliced on the bias
1 teaspoon sesame oil
Method:
Toss the beef in the wine, soy sauces and cornstarch until it is well coated with the mixture. Allow to marinate at room temperature for at least twenty minutes.
Heat wok on high heat until a thin thread of smoke rises from it. Add peanut oil and heat for another thirty seconds or so. Add beef, reserving any remaining liquid marinade in the bowl. Spread beef out into a single layer over the bottom of the wok and allow to sit undisturbed for at least a minute so it can sear. When you smell it browning and the top edges begin to turn greyish brown, then begin stir frying vigorously.
While stirring, sprinkle meat with ginger, garlic, chiles, chile flakes, and cumin. Continue stir frying just until all of the red color is gone from the meat, adding a bit of Shao Hsing wine as needed to deglaze any browned bits from the bottom or sides of the wok. Add any liquid marinade and stir fry just until the liquid thickens and clings to the meat.
Sprinkle with scallion tops, and drizzle with sesame oil. Remove from heat, give a few more stirs and then serve on a heated platter with plain steamed rice and a vegetable dish.
Powered by WordPress. Graphics by Zak Kramer.
Design update by Daniel Trout.
Entries and comments feeds.