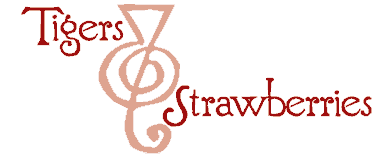 Cook Local, Eat Global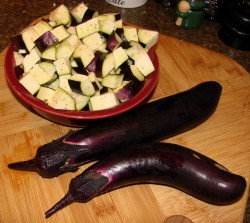 I may not like summer heat, being as I tend to wilt when temperatures soar above eighty degrees, but I sure love summer.
Why?
Because of all the delicious locally grown produce, of course.
Especially heat lovers like eggplant, known in Hindi as baigan.
Look at those gorgeous little Asian eggplants up there: shiny dark violet skins enrobing spongy greenish flesh with very few seeds and absolutely no bitter juices. I love them. They are luscious to look at and luxurious to eat, so rich, so sweet and so easy to cook. You just cut them and go–with the smaller eggplant varieties, there is absolutely no need to salt them and squeeze out the bitter tears that weep out of them. There is no waiting. They are nearly instant food.
I am going to tell you–I love eggplants cooked any way they can be cooked. I like them in Mediterranean recipes such as rich pasta sauces and moussaka, and I love them in Middle Eastern classics like baba ganoush. And I like them cooked in Thai curries, too. And I like them in Chinese stir fries and braised dishes, even if I haven't written about those recipes yet.
But my absolute favorite ways with lush sexy aubergines are the recipes from the varied kitchens of India. Oh, how I love baigan bartha, rich with tomatoes, onions, garlic and spices. I also adore the little ones stuffed with a mixture of shredded vegetables, keema sookh and rice, then steam baked, and served with raita or a mango chutney on top.
When I bought these little lovelies at the farmer's market, I intended to cook them southern Indian style, with a tempering or tarka of chilies, mustard seeds, cumin and curry leaves.
Alas, however, I was sad to find that I had used the last of the curry leaves in my freezer and had forgotten to replenish my supply. Woe!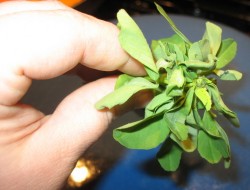 Necessity, however, is the mother of invention. What I lacked in curry leaves, I made up for in the bunch of fresh methi I had just bought from the farmer's market. Methi is the greens of the fenugreek plant which gives us fenugreek seeds, an important spice in Indian cookery. The leaves have a very musky, somewhat bitter flavor that also has a sweet, hay-like fragrance.
I had been planning on aloo methi, but taking a long sniff of the fragrant leguminous leaves, I decided that the bitter-sweet flavor of the fresh greens would be just as good as curry leaves with the eggplant–just different.
So, instead of using an established recipe, I went with my own initiative and worked out a recipe myself. I used mustard oil, onions, a wee bit of garlic (garlic and eggplant go together like Ginger Rogers and Fred Astaire in my kitchen–they dance together on the tongue with light and airy steps, leaving behind joy) chili and ginger, and a sprinkling of cumin, mustard seeds and methi seeds. Salt, the methi greens, and of course, a tiny bit of water, made up the rest of the ingredient list, and so, I began cooking.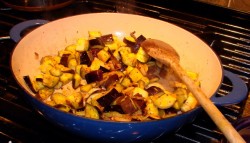 I cooked it all simply, over high heat, browning the onions deeply first, then adding the whole spices, the garlic, ginger and chili. When these ingredients took on color and fragrance and the mustard seeds popped, in went the eggplant, which I stirred like mad. I added a tiny bit more oil, as eggplant will soak up oil like a sponge, and then I turned the heat down slightly and let the eggplant begin to brown. As it shrank and browned, I threw in the finely minced fresh methi, and sprinkled about a quarter cup of water over it all.
The water simmered away, and then I started to stir, letting the methi leaves cook down and release most of their liquid, and get a tiny bit crispy in places.
With a sprinkle of salt to taste, it was all done: a fragrant medley of flavors, spicy, sweet, musky and hot all at once.
Morganna loved it, and she and I pretty much finished up the entire pan of it last night, with a bit of help from Kat, who also appreciated the complex flavors of the dish. A little tiny bit was left over that I am going to grind up today into a thick puree and freeze in small cubes to use as food for Kat's lunches and dinners when we are eating things which are not really good for yet, like eggs, curries with nuts and other such baby-unsafe dinners.
Ingredients:
4-6 tablespoons mustard or canola oil (mustard oil gives incomparable flavor and fragrance, if you like it)
1 cup of thinly sliced yellow onions
1 teaspoon salt
1/2 tablespoon minced fresh ginger
1 1/2 tablespoons minced fresh garlic (about three large cloves)
1 fresh green cayenne pepper, thinly sliced (or to taste)
1 teaspoon mustard seeds
1 teaspoon cumin seeds
1/4 teaspoon methi (fenugreek) seeds
1 pound of small Asian eggplants, stalk trimmed off and cut into 1/2″ dice
1 cup moderately packed methi leaves (large stalks removed), finely minced
about 1/4 cup water
salt to taste as needed
Method:
Heat the smaller amount of oil in a heavy-bottomed skillet. (Cast iron is great for this.) Add the onion, and sprinkle with salt. Cook, stirring, on medium high heat, until the onion is a medium golden brown. Add the ginger, garlic, cayenne, and spice seeds. Cook , stirring, until the onions are a deeper brown, the garlic and ginger have taken on color and the mustard seeds have popped.
Add in the eggplant, and cook, stirring, until the eggplant just begin to brown. If you need to, add a little bit more oil at this point.
When the eggplants have softened and are browned on all sides, add the methi leaves and sprinkle the water over all. Turn the heat down and allow the methi leaves to wilt. Then stir, cooking off all of the water, until some of the leaves brown a bit and crisp slightly.
Taste for seasoning, and add salt as needed.
Serve with rice, raita and dal for a complete meal, or stuff into chapati for a snack.
10 Comments
RSS feed for comments on this post.
Sorry, the comment form is closed at this time.
Powered by WordPress. Graphics by Zak Kramer.
Design update by Daniel Trout.
Entries and comments feeds.