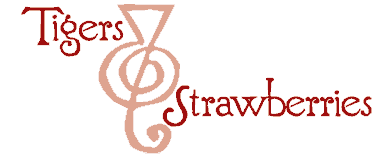 Cook Local, Eat Global
Edible flowers were and are all the rage in some culinary circles, but I find many people hesitant either to try and cook with flowers, or to eat them if they are served. This hesitancy probably stems from unfamiliarity with the long-standing custom of eating flowers and using them as flavorings in food. It probably also is the result of childhood warnings given by well-meaning and rightfully fearful parents; some flowers, for all that they look and smell delicious to small person's senses, are indeed, quite poisonous.
The bright colors and exquisite shapes and scents of flowers are both alluring and in some cases, dangerous, (oleander, for example is deadly poisonous, for all that it is gorgeous), and so we are made wary when it comes to tasting them.
So, the first rule when it comes to eating flowers is to not eat any of them, until you are certain that they are not poisonous. In order to find out which are edible and not, one can consult a knowlegeable friend, a reputable website, or a good book.
The second rule of edible flowers is not to eat any from a florist shop, nursery center or from the roadside. Florist shops and garden centers use pesticides on their plants that are not safe for plants which are to be eaten. Unless you like a side of poison with your salad, then, it is best to avoid plants from those sources. In the case of roadside gathering, car exhaust, and the use of herbicides by state road crews to control weeds make the prospect of eating these plants questionable at best, dangerous at worst. (This also goes for gathering berries by the roadside–it is generally a bad idea.)
Where, then, does one get edible flowers? Well, the best way to go about getting safely edible flowers is to grow them yourself. If you have a small amount of garden space, or even just a sunny deck or porch, you can grow some edible blossoms for yourself and your family. Nasturtiums, pansies and violas thrive in pots; and the flowers of most culinary herbs, which also do well in container gardens, are not only lovely, but edible. For a couple of good books on growing your own edible plants, check out Rosiland Creasey's The Edible Flower Garden, and Taylor's 50 Best Herbs and Edible Flowers : Easy Plants for More Beautiful Gardens.
But even if you don't have room to grow your own edible flowers, they can usually be bought at local farmers markets from growers who do not use pesticides or herbicides, because they know people will be eating them. Upscale grocery stores such as Whole Foods, Wild Oats and many independant natural foods stores also sell edible flowers grown without any poisons.
One does not have to use only fresh flowers in order to cook with the flavors and essences of them. Dried lavender buds are available from Penzey's, for use in cooking, and rosewater, lavender water, orange flower water and pure essential oils can all be used in cookery as well. Just be certain that what you buy is meant to be used in foods, and is from a non-poisonous source.
Following are a few of my own very favorite edible flowers, with notes on how to use them and how easily they are grown.
Roses are my number one favorite all time edible flower. While I don't often use the flowers themselves, except as garnishes, I do make use of a product made from the flowers: rosewater. (I prefer Cortas brand from Lebanon for its superior aroma and flavor.) However, one can also use the flowers to make candies, the petals or whole blossoms can be coated in lightly whipped eggwhites and sprinkled with super-fine granulated sugar to candy them, and can be used to make jams, preserves and jellies. Gulkand is a type of rose petal jam made in India; I have used this product to make a filling for a cake I named Gateau de Mumtaz Mahal. One of my most famous recipes made with rosewater are the ever-popular Aphrodite Cakes, but I have also made Strawberry Rosewater Ice Cream, and I use rosewater in nearly any recipe that includes berries, such as Strawberry Shortcake. Blackberries and raspberries are also enhanced by the use of rosewater, as evidenced in the recipe for Blackberry Pie.
Lavender comes in a close second when it comes to my favorite edible flower. The rich medicinal tang of lavender is probably one of my favorite scents in all the world, even more beloved than the heady musk of roses. Unlike roses, which I tend to use only in sweets, I do use lavender in both sweet and savory preparations. It is a component of the classic herb mixture, "Herbes de Provence," which includes some or all of the following, depending on who is doing the mixing: cracked fennel seed, rosemary, thyme, savory, marjoram, chervil, tarragon, basil and lavender. This mixture is used on poultry, fish, roasted meats and in stews. I also have used lavender to great effect in shortbread, as shown in the recipe for Lavender Crescents, and mixed with ginger in an ice cream called Creme Glace Chinoise.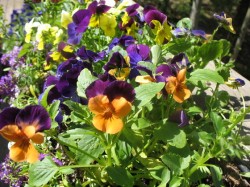 Violas and pansies are often used candied to decorate cookies and cakes, but they can also be used in salads to good effect. They are colorful, beautiful, and simple to grow. They do tend to like cooler weather, however, so they are kind of hard to keep looking pretty all summer long, once the dog days start in. I like to use them in salads, particularly in ones like my Fried Chevre Salad. Some people say they cannot detect a scent or flavor in these little flowers, but when you grow a lot of them together like I do, you can catch a whiff of a very delicate, sweet floral scent that is as endearing as their little "faces" are. I like to use them to garnish all sorts of savory dishes, too, however, where they can bring a dash of brilliant color to an otherwise monochromatic dish, like Kashmiri Kofta.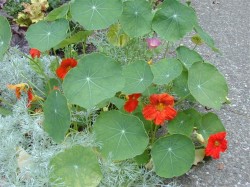 Nasturtiums are the edible flowers most often found in upscale grocery stores, and with good reason. They are brilliant in color, and are filled with bright, peppery flavor that is akin to watercress or radish sprouts. When we lived in Pataskala, I used nasturtiums to border all of the walkways of the garden, and then would use the leaves and flowers to garnish salads, soups, and any other dish that would sit still for them. I also liked to minced up the flowers and leaves with basil, thyme and rosemary and make a delicious compound butter that was great stuffed under the skin of a roasted chicken, or used to butter freshly baked breads. Unfortunately, most of the front of our new house is shady, so I have to wait to grow more nasturtiums until we get the back yard terraced next spring, but until then, I will buy them at the farmer's market for when I want to use them as garnishes, like I did last summer when I made Nam Sod.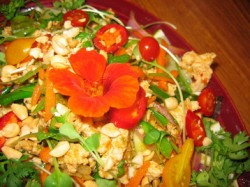 These are just a few of the possible edible flowers you can use, whether you want to make an entry to this month's The Spice is Right–The Perfumed Garden event, or just because you want to give cooking with flowers a try. There are quite a few good resources online to start whetting your appetite on the subject, and whether you get your flowers from the local farmers market, or grow your own, it is very fun and rewarding to explore the myriad scents, colors and flavors afforded by the many different edible flowers of the world.
19 Comments
RSS feed for comments on this post.
Sorry, the comment form is closed at this time.
Powered by WordPress. Graphics by Zak Kramer.
Design update by Daniel Trout.
Entries and comments feeds.