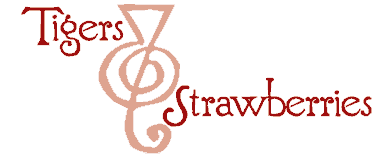 Cook Local, Eat Global
I know that the Meatless Monday campaign promoted by Johns Hopkins Bloomberg School of Public Health has been in the media a lot recently, but I still wanted to present it to my readers because not only is it a good idea for our personal health to eat less meat, it is good for our environment as well. And–eating meatless one day a week helps us come up with even more delicious ways to use up the abundant local produce that is filling our farmers' markets this summer.
Promoted by none other than author Michael Pollan (The Omnivore's Dilemma) as well as many other celebrities, institutions, restaurants and countries (yes, I said countries) the concept of Meatless Monday is simple–one day a week, pledge to eat no meat. That's it.
Simple.
Now, you can go farther and go vegan once a week, but that isn't necessary. Or, you can eat vegetarian more than one day a week. I suspect that a lot of people will end up eating no meat more than one day a week once they realize how tasty vegetarian food really is–personally, this summer I have been eating meatless about three days a week. (You may have noticed that most of the last twenty recipes or so on this blog have been vegetarian. There is a reason for that–not only are we eating less meat here at Chez Barbara, but I am committed personally to showcasing delicious vegetarian recipes more often than I have in the past.)
Basically, while I am still an omnivore, and a committed locavore, I also want to eat less meat–even if the only meat we eat in this household is locally produced and grass fed– because eating a little lower on the food chain a little more often is good for our health and helps save a tremendous amount of carbon emissions. (On Oprah's Earth Day special, Michael Pollan noted that if every household in America went meatless one day a week, it would be the equivalent of removing 20 million mid-sized sedans from the road.)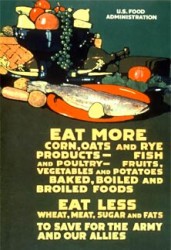 Meatless Monday isn't just a modern liberal/progressive/vegetarian plan to save the animals and the environment–it has a venerable history in the United States. During both World War I and World War II, there were calls to eat less meat in order to support the war effort, and Meatless Monday was one of the programs instituted by the Federal Government to help succeed at the goal of not only feeding the army, but the starving populations of Europe whose own crops had been destroyed by war.
It was a good idea then, and I think it is a good idea now–and it is an idea that is beyond political ideology or identity. Research has shown that eating less meat is good for -everyone- and that means everyone no matter what their political beliefs.

Now, I am not advocating that everyone go vegetarian or vegan here. I am not being radical about this–I am just suggesting that we eat more plant-based foods than most Americans do, and the idea of setting aside one day a week to be completely meatless is an easy, relatively painless way to go about it.
So, in support of Meatless Monday, I will begin every week with a new vegetarian recipe that will make a great supper, guaranteed to taste good to vegetarians and omnivores alike. And, in support of Meatless Monday, I will evangelize the movement by serving guests–especially those who think they don't like vegetarian food–amazingly delicious vegetarian meals.
This Saturday, I started my evangelical movement in support of meatless, locally sourced meals by feeding my Mom and Dad, both of whom are very "meat and potato" oriented sorts of folks, a meal that consisted of my Eggplant, Walnut and Tomato Bruschetta and New Potatoes with Pesto and Cherry Tomatoes.
What was the reaction?
They both loved it. They loved the sauces (Melanzane Con Noci and Pesto) so much that Mom asked for the recipe, and Dad praised them both vociferously. (Even better–they had come to visit Saturday morning, all the way from West Virginia, to shop at the Athens Farmers' Market!)
Even my parents are eating more meatless meals–in fact, for his birthday dinner, Dad asked Mom to make him Eggplant Parmesan–and this is from the man who once disliked eggplant. (I am pleased to have been instrumental in removing his eggplant-phobia by presenting him with a Portuguese eggplant appetizer I had learned to cook in culinary school when I visited home during break.)
Look, here is the deal–if my parents can do it–so can you, me and everyone else.
So, get on board and go meatless, if not this Monday, then next.
And if you need some recipes to get you started, check out my recipe category, Almost Vegetarian, Vegetarian and Vegan.

Or take a look at these recipes hand picked by me for you to try today:
Palak Dal, South Indian Style
Linguine With Olives, Feta and Lemon
Imam Bayildi
Heather's Pasta With Mushrooms and Peas
Kashmiri Dhingri Chole
Chinese Noodles With Mushroom-Tofu Sauce
Or check out the recipes at A Veggie Venture and Fat Free Vegan Kitchen for inspiration.
7 Comments
RSS feed for comments on this post.
Sorry, the comment form is closed at this time.
Powered by WordPress. Graphics by Zak Kramer.
Design update by Daniel Trout.
Entries and comments feeds.