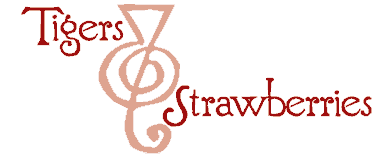 Cook Local, Eat Global
Last year around this time, I wrote a post entitled Culinary New Year's Resolutions, and it was such fun, I decided to look back at what I had resolved to do, see how well I managed it and then write up a new batch of resolutions, and invite my readers to add their own culinary resolutions in their comments.
Last year, the first resolution I made was to cook more Thai food and blog about it.
I did rather well with that resolution, and lost no time with getting into it, as I posted about Pad Thai on January second. Later that month, I also posted about Red Curry and Mu Pad Prik King. However, it wasn't until July, and the heat of summer that I really got the kitchen hopping with Thai cuisine, when I posted about Tom Kha Gai, Panang Nuer, Green Curry, Massamun Curry, Tomato Basil Salad, and Kaeng Kari Gai.
I am pretty pleased with the way that resolution turned out, so I will not repeat it this year. That is not to say that I will not post about Thai food anymore–far from it–but, I won't feel the need to make a formal declaration of resolve about it.
The resolution to cook more fish, however, fell by the wayside a bit. I was rather waylaid by the fact that I was pregnant and was wary of the issue of mercury in the flesh of many of my favorite fish, most notably salmon and tuna. However, I have been eating wild-caught salmon by Ecofish recently, as their fish are all tested for mercury levels and are certified as being safe, so look for some more fish recipes this year, too.
I also promised to actually cook from some of my many cookbooks last year, and I did, sort of.
As I stated in my post, "No Note-For-Note Cooking Here," I am just not good at following recipes word for word, so I just don't. Nearly every time I have done so, I have regretted it, so I just use recipes as starting points. If I do that and I blog about it, I always state that in my post, and state the source of the initial inspiration–I believe in giving credit where credit is due. But, still, I did present recipes from my cookbook collection, including one I adapted from Martin Yan's recipe (Ghengis Khan Beef, the recipe for which is included in "No Note-For-Note Cooking"), from Grace Young's excellent book, The Breath of a Wok, and one from the wonderful cookbook, The Fifth Taste, which I called Hillbilly Deluxe Dinner. I also gave an oatmeal cookie recipe which I took from Rosie's Bakery Chocolate-Packed, Jam Filled Butter-Rich No Holds Barred Cookie Book by Judy Rosenburg's, and changed completely into ">Oatmeal Fruit and Nut Cookies.
There are other examples of recipes adapted from cookbooks, of course, and they have been such an inspiration to me, I will continue in that vein in the coming year.
Last year, I also promised to cook more from magazines and newspapers.
Oops. I didn't do so well with that one. I keep meaning to, but I keep not doing it.Oh, well. And this is even though I read lots of cooking magazines, and see lovely photos and good sounding recipes. I just never get around to cooking them. I don't know why.
So, I should repeat that one this year, and I might try it again.
What I can promise to do is still look at food writing in magazines and newspapers with a critical eye and report on what I find there. THAT part of it, I am good at. Just not so much the cooking part….
In a similar vein, I also resolved to write more book reviews. THAT, I am pleased to say, I kept up with, and it was a lifesaver when I was pregnant and nauseous and didn't really want to cook or eat. It is hard to write a food blog when food makes you queasy, but the fact that I love to read about food and will curl up with a good cookbook the way normal people do with novels saved me. If you glance over at my archive categories and note the categories "Book Reviews: Cookbooks" and "Book Reviews: Non-Cookbook Food Books," you will note a total of forty-nine entries.
I think I can safely leave that resolution behind and just keep up the good work when it comes to reading books and writing about them.
I promised more essays last year, and I think I delivered pretty well on that score. I wrote about a myriad of topics, from manners, picky people, Omega 3's and mercury in fish, blogging ethics, the ethics of meat eating and eating locally, and in doing so, usually fomented vociferous discussion in the comments section.
Have no fear, I will continue writing provocative essays–it is one of strongest abilities as a writer, and I will be darned if I stop doing pushing the envelope of this blog!
I also promised to teach classes and blog about it, but the pregnancy surprise rather nixed that idea and Kat's presence will likely keep complicating that for a little while yet. However, I still intend to start a small cooking school here in my home, and use the upstairs kitchen to do so. And when I do that, of course I will blog about it here.
The only other resolution I did not keep as well as I could have was my promise to write more about the local Athens food scene, and there is a reason for that.
I am working on a book about that subject.
So, what are my resolutions for this year?
Expect to see more of what you saw last year, though not as often. I am really going to work to post three times a week minimum, but I am not going to push myself harshly on that score. As time goes on and the depression wears down a bit more, I will try and write more and more, but bear with me for a while longer as I get my writing chops back in gear.
I am going to seriously work on my book proposal and start interviewing sources for the book and get on the task of finding an agent. Wish me luck.
As for cooking–look for more Chinese recipes, more in-depth cooking lessons, (including how to stir-fry tofu!) and more Indian recipes. I just met a lovely lady from South India, and she has promised to teach me about South Indian vegetarian cookery, so look for me to share what I learn with everyone here. I'll still be cooking Thai, of course, but I am thinking of going into some Vietnamese and Korean cookery as well, as there is no place here in town to get any really good Southeast Asian cuisines.
All of that said–what sorts of culinary resolutions have you made? Where do you plan on stretching your foodie-wings this year?
20 Comments
RSS feed for comments on this post.
Sorry, the comment form is closed at this time.
Powered by WordPress. Graphics by Zak Kramer.
Design update by Daniel Trout.
Entries and comments feeds.