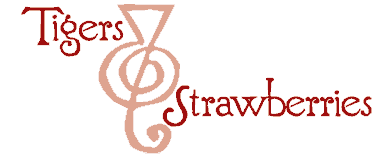 Cook Local, Eat Global
I decided, in the last few days of this year, to look back over what I had written and pick out a post or two per month which had a lot of meaning for me.
Well, I tried to keep it to one or two posts per month, but, well–it just didn't work out that way. I guess I just had too much to say.
In the case of these posts from the past year at Tigers & Strawberries, these are the essays and articles which have meant the most to me, and which I hope have meant something to other folks as well. These are the posts that have stayed with me and made me think, both as I was writing them and as I read and answered the responses to them over the year. I hope that they are as informative and interesting now as they were when I wrote them initially.
January: I kicked off 2007 with a recipe for Pomegranate Cheesecake, but quickly delved into the intricacies of Chinese cookery and culinary culture. Let's Talk Woks was one of my more informative, useful posts on the subject of woks and Western stoves I have written. It was sparked by the questions a reader sent regarding flat bottomed woks, and I decided to make a post from it because the questions were such sensible, reasonable ones that I was certain that some other readers probably were wondering the same things, but just hadn't gotten around to asking yet. I was also thrilled to write a review of Fuchsia Dunlop's cookbook on Hunan cuisine: Revolutionary Chinese Cookbook and present a pair of recipes from the book: Peng's Home-Style Bean Curd and Beef With Cumin.
February: This generally dreary month roars in with Staple Ingredients of the Chinese Pantry, a [pst which was, once again, inspired by a question from a reader. Again, it is the sort of question that any beginner dipping his or her toe into the culinary arts of China might ask, so I set forth to answer it publicly and thoroughly. I ended up listing fourteen basic ingredients which anyone who is interested in serious study of Chinese cuisine should have in their pantry, along with notes about each ingredient as well as my favorite brands of many of them. I also wrote a post, Let's Talk About MSG, which caused a bit of a stir, with people discussing this often derided ingredient which is often found in the pantries of Asian cooks. Wok Wonderings continues my quest to answer questions about woks sent in by curious readers.
March: If I were to give 2007 a title, it would be "The Year of Panch Phoron," because after discovering it in March, I have been using it and loving it ever since. The eponymous post, Panch Phoron, written in an imaginative, emotional style, describes my feelings regarding this essential spice mixture from Bengal. I have since discovered that any vegetable is improved greatly with the addition of panch phoron, even if the vegetable is cooked and presented quite simply. Another good post from March is My Favorite Chinese Cookbooks For Beginners, which is an annotated list of the handful of great cookbooks for beginners to Chinese cuisine. And speaking of Chinese cuisine, I also developed a delectable recipe for Vegan Dry Fried String Beans With Fresh Shiitake Mushrooms that I liked just as well as the pork and dried shrimp-seasoned traditional version.
April: April could have been called "The Month of Stir Fry" because there are a good solid handful of posts on the subject of how to stir fry successfully. Stir Frying Tofu Part I: Choose Your Tofu Wisely gives advice on how to find the best types and styles of tofu to stand up to the rigors of a hot wok and a fast wok shovel, while Ten Steps to Better Tofu From a Wok gets down to the exact techniques needed for making good tofu even greater in the wok. Another useful and important post on stir frying introduces my system which teaches how to invent your own stir fried dishes which taste as delicious as anything you will learn from a cookbook recipe: Creating Your Own Foolproof Chinese Stir Fry: Introducing Barbara's Rules of Three. And, Morganna, Kat and I showed folks how to make their own kimchi from scratch at home in Up Close and Personal With Kimchi.
May: Anyone who has read my blog for more than oh, say, a week, should know that I am neither a vegetarian or a vegan. But, as an ethical omnivore, I stand beside ethical and responsible vegetarians and vegans when it comes to defending their dietary choices as both nutritious and ethically sound. In May, after I read Nina Planck's OpEd piece in the New York Times where she states in no uncertain terms that vegan diets are not only nutritionally inadequate for infants, but also implies that parents who feed children vegan diets are neglectful and abusive, I had to return fire. Nina Planck Stirs The Pot; Vegans Get Steamed: Film At Eleven is my heated response to the author's unqualified nutritional rant. This post got a lot of attention all over the web, and sparked a huge discussion and debate on the issue of vegan parenting which went on for months. I still get cranky when I read Planck's ill-informed words to the point that I don't think I can ever look one of her books straight again. I also wrote an essay debunking many of the fear-mongering statements which had been made in the press concerning the die-off of honeybees: Concerning Bees: The Fear Factor, but it was easily overshadowed by the discussion of the ethics of vegans and vegan parenting.
June: June was a month where I was lazy on posting, but I still got to cover a few interesting and fun issues. Harking back to the issue of what to feed infants, I wrote about Cooking for Kat: Breaking the Baby Food Rules. There was much discussion and sharing of baby feeding tips as a lot of readers agreed with me that the American ideal of feeding infants out of boxes and jars was not really ideal at all. I also wrote about my newfound fascination with collecting vintage aprons in Aprons Come Out of the Closet, and I told the story of how I learned my most cherished traditional Chinese recipe in The Secret's In the Sauce: Sichuan Shredded Chicken with Garlic Sauce.
July: I started posting more regularly again in July, and a lot of informative and opinionated posts came out of the summer flurry of writing and activity. The Intermediate Chinese Pantry lists eleven ingredients I find to be indispensable when added to the basics of the Chinese pantry for cooks who have gone beyond the beginner's stage of Chinese cookery. Morganna: The Adventures of an Ethical Omnivore in Training told the story of how Morganna and two of her classmates, on their own, slaughtered a young steer on her friend's farm, and started a discussion which tureswent on for months, and was both enlightening and acrimonious. Most readers understood my point in encouraging Morganna to find out first hand what price is paid for eating meat, but one vegan couldn't wrap his head around it and became slightly–insulting about it. (Don't worry–just because one vegan was self-righteous doesn't mean I think all of them are. I am still proud of my defense of vegan parents.) Another discussion started over my essay, Is Cooking For Your Family Retrograde June Cleaver Nonsense? both here and on various feminist communities over the 'net.
August: August was the Month of Chinese Noodles here at Tigers and Strawberries; most of my posts were consistent with my desire to cover as many aspects of Chinese noodles as possible. These posts include Chinese Wheat Noodles 101 and Dried Rice Noodles 101 as well as my recipe for a favorite noodle dish: Singapore Rice Noodles. But it wasn't all noodles all the time in August; I also wrote about a British study which found that children of women who ate a lot of junk food when they were pregnant and breastfeeding tended to prefer junk foods when they were weaned. Weaning Kids From Junk Food: Start Before They're Born covers my thoughts on the issue which include the fact that modeled parental behavior is at least as important as the mother's diet in shaping children's eating habits.
September: Even though for many bloggers September was Eat Local Month, we always eat locally here at Tigers and Strawberries. So while I did write about eating locally in such essays as Eating Locally As A Spiritual Practice,, most of my posts were a continuation of the Chinese noodles theme. In Making Basic Chinese Chicken and Pork Stock and A Noodle Shop Classic: Roast Pork Noodle Soup I taught readers how to make one of the most homey and comforting Chinese dishes one can imagine. Finally, in The Not-So-Secret Ingredient to Roast Pork Noodle Soup, I 'fessed up to having to use a pinch of MSG to make the broth of the soup taste just like it came from a noodle shop. And then I asked What Is Up With The Cupcake Thing?
October: This was the month when I did a lot of canning and preserving the bounty of Athens county for the cold months of the winter. But that wasn't all I wrote about, even if I did write about it a lot. I also talked about sucking shrimp heads in A Meditation on Heads-On Shrimp: To Suck or Not To Suck? And, I taught folks how to make a roux in A Basic Saucemaker's Skill: Making a Roux, as well as how to make a couple of delicious casseroles in Cowboy's Pie: A Tex-Mex Take On A British Classic and Pork and Apple Enchiladas Verde Casserole. But that's not all. I also explore the issue of genetic factors in picky food behavior in kids in Where Do Picky Kids Come From? It May Be In The Genes, Or Not and looked at the issue of two cookbook authors hiding good food in bad food for kids and whether or not one of them stole the idea from another in The Cookbook Caper. Both of the latter posts started controversy, but it paled in comparison to the firestorm started when I wrote Is Alice Waters An Elitist Food Snob?
November: I didn't write much about Thanksgiving in November, probably because I as too busy researching recipes to use at my new job as the chef at Restaurant Salaam here in Athens. But, I did write about my new cranberry sauce recipe: Cranberry Sauce With Pomegranates and Mulled Wine, and I implored readers not to overcook their turkeys in Talking Turkey: Don't Kill The Bird Twice. I also presented a few recipes I developed as specials for Restaurant Salaam, including the Greek classic Delicious Greek Fish: Psari Plaki. My favorite post, however, has to be What The Heck Is That? where I wrote about the giant puffball mushrooms Peggy found in the woods around Athens, which got turned into a Wild Mushroom Curry with Spinach.
December: In the last month of the year, I found myself asking What's So Special About Dinner Specials? where I mused on the complexities of predicting the tastes of restaurant patrons and what to do when a dinner special is not as popular as predicted. I also wrote about when dinner specials go right in Moroccan Style Chicken with Oranges, Black Olives and Fennel. A local dairy opened here in the Athens area, and I reported on how the milk was not only local and comparably priced to conventional grocery store brands, but it was The Best Milk I Have Ever Tasted. An OpEd piece in the New York Times gave me the idea to write about Hunters, Locavores and Critics, Oh, My! where I note that I grew up with hunters who went out in the woods not to drink beer and shoot at anything that moves, but rather to provide meat for their families and neighbors. I was surprised to find out how many readers had the same experience with hunters as I did. Then, I gave step by step instructions on how to make ghee from butter in Golly Gee, I mean, Ghee. And, finally, I gave a Christmas present to all caffeine heads among my readership–a new recipe for coffee bars that are like brownies with the chocolate taken out and replaced with espresso and Kahlua: BuzzBarz.
That just about sums up what I feel are the best posts I have written this past year. I hope that Tigers and Strawberries has been a source of inspiration to my readers to get into the kitchen and cook for the past three years and I aspire to continue to bring all of you the best essays, articles, book reviews, and recipes I can in 2008.
7 Comments
RSS feed for comments on this post.
Sorry, the comment form is closed at this time.
Powered by WordPress. Graphics by Zak Kramer.
Design update by Daniel Trout.
Entries and comments feeds.